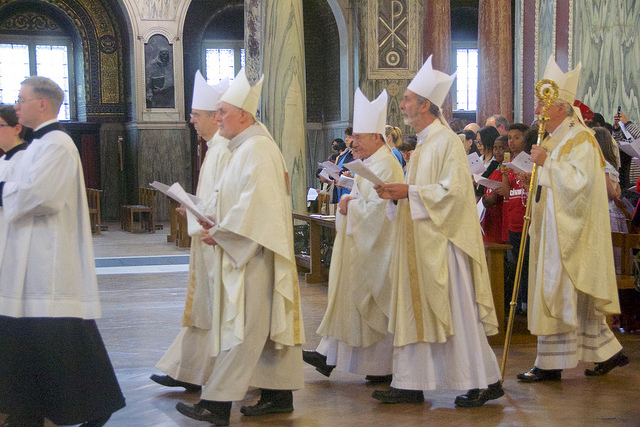 This year the annual Mass for Migrants in honour of St Joseph the Worker took place at Westminster Cathedral on Bank holiday Monday, 2 May 2016.
The annual Mass is a joint event for Westminster, Brentwood and Southwark Dioceses, so that all parts of London are represented. The Diocese of Brentwood includes the five East London boroughs of Barking & Dagenham, Havering, Newham, Redbridge and Waltham Forest. Cardinal Vincent was the principal celebrant and Bishop Alan Williams and others concelebrated.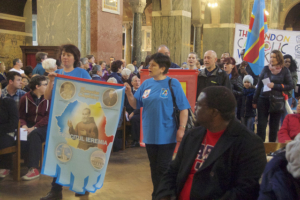 The Mass is an opportunity for Catholics from London's diverse communities to gather and pray together – and an opportunity to remember refugees and migrants who have left their homes because of political or economic hardships, and are struggling to find a better life for themselves and their families. This is particularly poignant this year as so many Syrian refugees are leaving their country in search of sanctuary.
The Mass began with the colourful banner procession, representing the rich diversity of Londoners with origins in several nations. Members of several ethnic chaplaincies took part in the Mass, providing music and bringing forward the offertory gifts.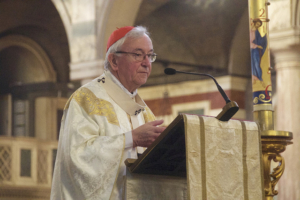 In his homily, Cardinal Vincent recognised the parallels between the journey that Paul and his companions took in the Acts of the Apostles from modern-day Turkey to Greece and the journey taken by many migrants and refugees seeking a better life in Europe: 'The pathway of the spread of our Christian faith, then, is the same as one of the pathway followed by refugees and migrants today. May it be a pathway on which they meet the fruits of that faith: compassion, encouragement, help and respect.'
He expressed his hope that 'the way in which governments respond to the immense challenge which faces us will take more seriously the personal generosity of so many who are willing to welcome refugees and desperate migrants and yet are hindered from doing so by policies shaped more by caution and fear'.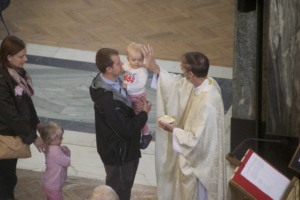 Reflecting on the words of the Hail, Holy Queen, the Cardinal said 'this is a vale of tears as both the Mediterranean and the Aegean Seas become, in the Holy Father's words, graveyards for children, the elderly and their families. Today we pray for all who weep and sense that they have been abandoned.'
He also recognised 'all who have arrived in this country, in this city, and who work hard not only to survive and to support their loved ones, but also to make their contribution to the well-being of others'. He called for 'a change in heart in our society', one that would see appreciation for 'the great contribution made by so many migrant communities, without whom this city would not function'.
Pictures courtesy of Catholic Church/Marcin Mazur