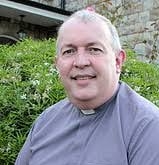 The funeral Mass of Fr Tom Jordan, parish priest of St Edward the Confessor in Romford, took place in his beautiful church on 19 August, with Bishop Alan as principal celebrant. Although, the Covid restrictions meant that only a small congregation of family – including his three sisters Maria, Monica and Theresa – and invited priests could be present, many parishioners and others were able to pay their respects afterwards as the cortege processed through the streets.
All the funeral choices – the readings and music – were Fr Tom's, mirroring the music and readings from his Ordination and his Silver Jubilee. Julia Wilson-James, from Brentwood Cathedral Choir, sang the psalm and hymns, including Guide me O thou great redeemer and Let all mortal flesh keep silence. The organist was Stephen King, also from the Cathedral. (Father-Tom-Order-of-Service (1))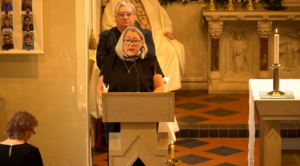 Tom's sister, Maria Hayzelden, read the first reading and the second reader was his cousin, John Gallagher. Close friend Fr Brett Adams read the Gospel. He was one of a number of priests present, including Fr Phillip Denton and Fr Dominic Howarth, Mgr Kevin Hale, former parish priest in Romford, Fr Stewart Foster, Fr Stephen Myers, Fr Paul Keane, Fr Gary Dench and Fr Nixon Gomes. Canon Paul Bruxby, who was at school with Fr Tom, was also present, along with Canon Bob Hamill. Rev Michael Barwick (who has just been ordained a deacon and who had been on placement in Romford) served as MC for the Mass. Fr Gerry Gostling joined the congregation from Brentwood's twinned Diocese of Dundee in South Africa, praying via livestream. Tellingly, there were also 23 servers ready to join the procession afterwards – reflecting Fr Tom's connection with young people.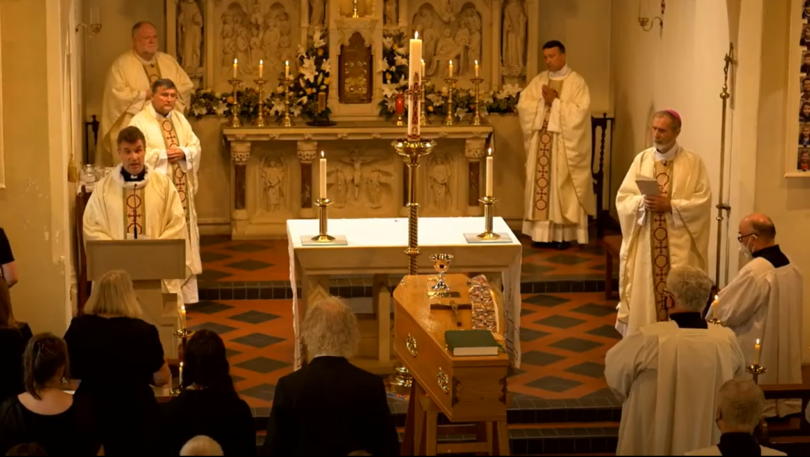 In his homily, Fr Dominic spoke with considerable affection about the man who was the 'amicus clero' for the diocese. He talked of Fr Tom's love of food and travel and how the shooting of Pope John Paul II made him reassess his own life as a talented chef and change direction to become a priest. His love of cooking and food went with him, though.
"Tom's ministry was defined by forgiveness, encouragement and radically inclusive welcome – along with immense generosity; like Jesus, Tom did most of his pastoral work over a meal," said Fr Dominic.
He talked about Fr Tom's nurturing encouragement to the young and spoke directly to the children and young people of the parish and school, telling them that they mattered greatly to Fr Tom and that he would want them to use their gift or talent to serve Jesus. He recalled words Fr Tom had written in the book of every First Holy Communion child in the parish for the last 17 years: "Be what you are, be it well, and all for the Glory of God."
Fr Dominic concluded by talking about Fr Tom's last act of generosity: the donation of his corneas. "The cornea refracts light and helps us make sense of it, creating an image that we can understand. The donation is a powerful metaphor. Because refracting the light was what Tom did, all his life; taking the enormity of the love, joy, kindness, inclusion, welcome and forgiveness of God, and making sense of it, by living it, in the name of Jesus Christ."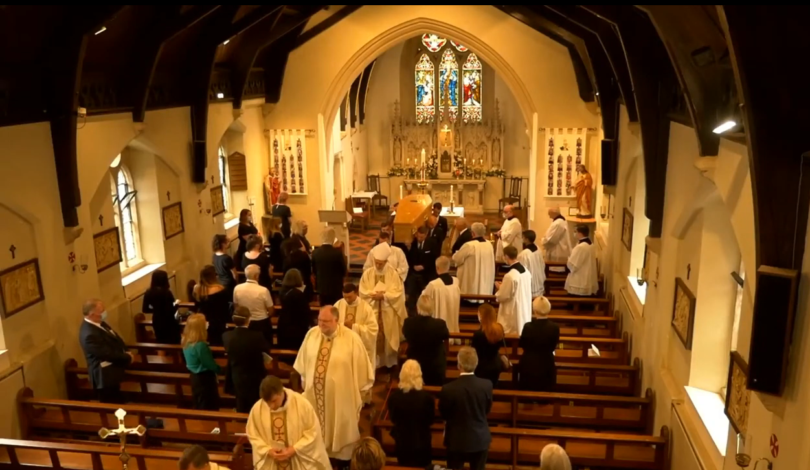 Fr Phillip Denton, a good friend of Fr Tom, prayed the final commendation to end the funeral Mass before the congregation processed out to follow the hearse, accompanied by Beethoven's Ode to Joy. Fr Dominic said: "In the procession outside we were joined by Fr Paul Maddison (East Anglia) and Fr Paul Turner (Arundel & Brighton) who knew Tom for many years. Other priests from the Havering deanery – Fr Krzysztof Tomczak, Fr Maurice Gordon and Fr Joe Farrell – also joined us."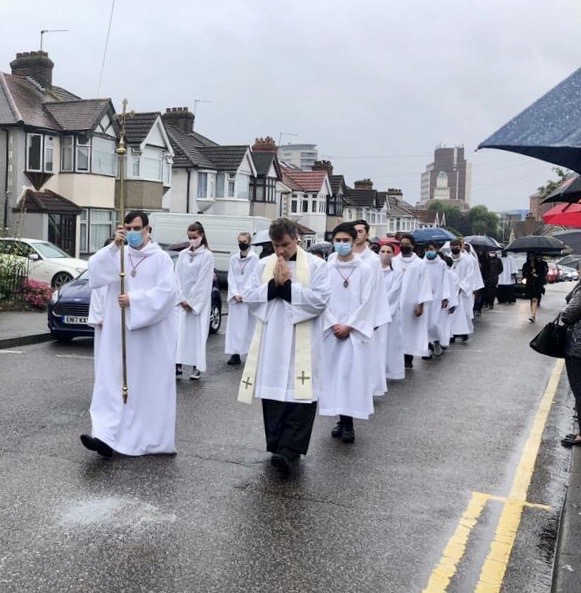 Bishop Alan and Fr Tom's brother priests sang the Salve Regina before the cortege began its slow progress. More than 500 people lined Park End Road and Park Drive in pouring rain to pay their respects to a much loved parish priest.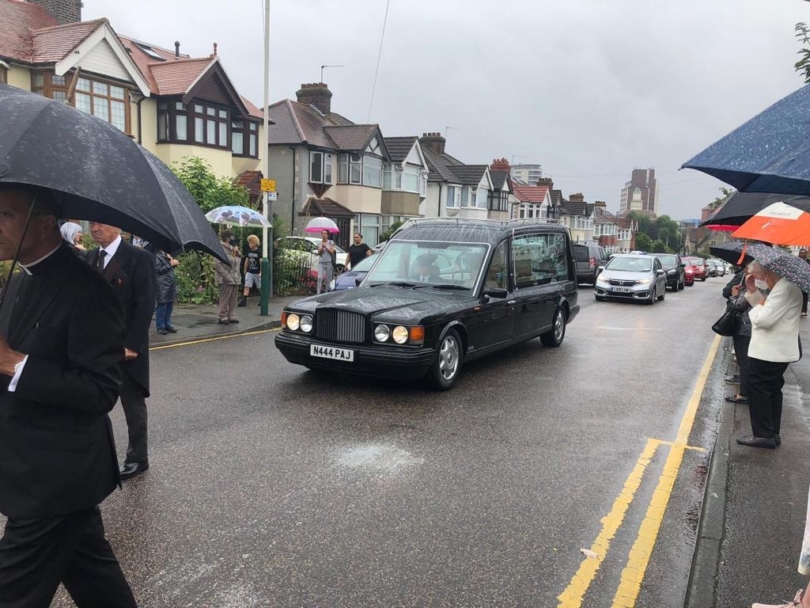 Julia Pitkin, parish administrator at Romford for nearly 20 years, said: "It was a very emotional day but we managed to give Fr Tom a fantastic send off despite the restrictions. The service was moving and powerful – with beautiful music – and the church looked lovely, decked with flowers and candles. We wanted to do the best we could for him, in the circumstances that we face at the moment. In normal times, the church would have been packed – it was sad that parishioners couldn't be there. Many though were able to pay their respects the night before and generally they were delighted with the arrangements. They were a very great support, helping to prepare the church, clean the windows and many other behind-the-scenes jobs – and they felt included because of it. The livestream meant that they could watch the funeral too – although the one thing we didn't do beforehand was test the organ, which is rarely played, while livestreaming. Unfortunately it caused some interference on the sound. Despite this, though, the livestream allowed all Fr Tom's family in Leeds and Ireland – many of whom are elderly and would not have been able to travel – to feel part of it. And for the immediate family, there is great comfort in revisiting the video – in years gone past the funeral would have been just a memory."
She points out that the young servers who volunteered for the procession were teenagers who made the choice for themselves and were proud to lead it in the rain. "They were impressed that Bishop Alan did not use his umbrella but walked, like them, in the rain as the Angelus bell rang for Fr Tom – they were very moved by that. Small gestures often mean a lot."
And the clergy-led Salve Regina, sung loudly and beautifully, brought Fr Tom's family to tears, she added. "Somehow the fact that it was teaming down as the priests sang and people lined the streets added to it. People made such an effort to bear witness to their respect for Fr Tom. It was very wonderful. Overall, it was a fantastic demonstration of love and respect for a very brave and pastoral priest."
Fr Tom was buried in the grave next to one of his predecessors at St Edward's, Mgr Matthias Kearney, in Romford Cemetery. May he rest in peace.
The Livestream Mass remains available on the parish website https://stedwards-romford.org.uk/: to watch and pray, click on this direct link: https://youtu.be/D_SaXi7tkB8
Read more about Fr Tom's life here: https://www.dioceseofbrentwood.net/news/fr-tom-jordan-rip-death-much-loved-priest/
Bishop and priests sing Salve Regina at start of procession