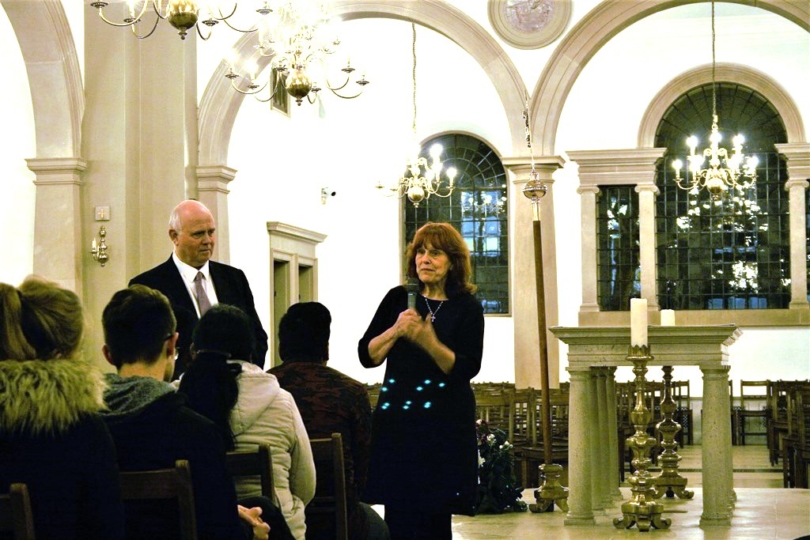 About 150 young people preparing for Confirmation attended a Brentwood Catholic Youth Service 'pizza and talk event' prior to the monthly Youth Mass at Brentwood Cathedral last week. They were there for the launch of SiLent, a national project which offers ideas and encouragement for young people to rediscover the value of silence, and raises money to support youth projects.
First they heard a powerful message about forgiveness from Barry and Margaret Mizen, parents of murdered teenager Jimmy Mizen. The day after his 16th birthday Jimmy was killed in a random and unprovoked attack in Lewisham. Since that day in 2008, the couple have founded a charity, For Jimmy, and visited hundreds of schools, parishes and even prisons to talk about the aftermath of his death and how they coped with it. The stark story of his sudden, unprovoked death in a local bakery is counterbalanced by their response to it – a life-affirming message of forgiveness and hope. Their tireless work is an attempt to make the streets safer, particularly for young people, and is inspired by their Catholic faith. The Mizens have been involved with Million Minutes, the charity behind SiLent, from the beginning, and For Jimmy is one of the organisations that benefits from the project.
After an introduction by Fr Dominic Howarth, who has particular responsibility for youth ministry in the diocese, the Mizens talked bluntly about the rawness of their grief and about the person who killed Jimmy. Said Barry: "We could not have coped without our faith. We all get hurt in life but it is how we deal with it that matters. Very seldom do people care about hurting us, or apologise – but we can forgive without that. We forgive for ourselves, so that bitterness does not destroy us. Forgiveness is a choice. People can hurt us and we can choose to let that go or let it continue for the rest of our life."
Margaret agreed: "I forgave the young man who killed Jimmy for myself. Everything would be bleak if I hated that boy. And I believe everyone deserves a second chance.  All the anger in the world won't bring Jimmy back. It will solve nothing but would destroy me. Think about the damage that anger does." She said her faith has played a big part in her life. "It is simple – I love God with all my heart and I know he loves me. Prayer sustains us."
She urged the young people listening to hold onto God through life's difficulties. "Whenever you struggle, hold on that bit tighter. He will never let go."
The couple challenged the young people to work to change things in a society threatened by an epidemic of knife crime. Said Barry: "Longer jail sentences are not the answer. It is up to us to change things. If we want things to be different, who has the power to make the change? You do."
Margaret added: "Go out and be the change makers, the peacemakers, to make a difference."
The audience also heard more about the SiLent project, which raises money for youth projects such as Basildon parish's school holiday project, Field of Dreams. Million Minutes' Dan Hale asked the young people to consider giving up speaking – and more significantly perhaps – social media and mobile phone apps for a whole day or a number of hours over Lent, perhaps collectively in a school assembly. He said: "This is about using silence in a really positive way.  In this busy world, there is no space to reconnect to who you are. Silence is the gateway to the soul; the way we communicate to God."  The charity hopes to create a million minutes of silence, he said, and raise a lot of money for youth projects.
Fr Dominic, who has already commited himself to a day's worth of silence and is to sign next month's Youth Mass, said that Bishop Alan is also up for the challenge. "Could there be 100,000 minutes of silence in our diocese in Lent 2018? If this were sponsored, at say 10p a minute, significant funds could also be raised, which would then be available to youth projects that applied for the funding." He continued: "If you have an idea to transform a part of your parish or town, you can pitch that to Million Minutes. If your pitch is successful, they will award you £1,000 to start off that idea."
In the Youth Mass which followed the talk, Fr Dominic issued a last challenge: "Pope Francis says that Hell is very cold – mean-spirited and vindictive; I challenge you to be warm-hearted during Lent." He praised the warmth of the varied social justice groups who had come together to discuss Caritas in the diocese the previous week. "Conquer your ignorance and fear of those who are different or on the margins. Live a Lent that is peaceful, forgiving and warm-hearted, embracing all those who are on the edges or our society."
The audience took the evening's messages to heart, listening intently to the talk and asking questions. During the Mass, a 'Sign of Peace' exhortation to shake their neighbours' hands with direct eye contact and feeling – or even seek out someone with whom they had a difficulty or issue – was taken up with vigour. Some minutes passed before the congregation came back together, as young people moved about the Cathedral, seeking each other out. And, at the end of the evening, the general impression was one of inspiration. "It certainly made me think," said one young man, adding with a twinkle, "and the pizza was great!"
Next month's Youth Mass will take place at Brentwood Cathedral on 7th March. Fr Dominic Howarth will celebrate.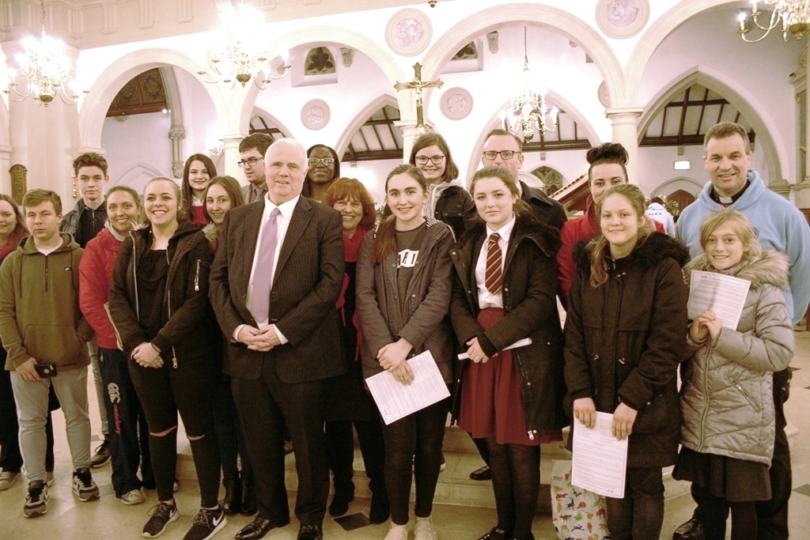 Some young people with the Mizens after Mass
Pictures by Mary Huntington