Bishop Alan has announced the death of Monsignor Canon Michael Corley, who died peacefully just after 6.30 pm on Friday at Colchester Hospital in the presence of his family.
In recent years he suffered with multiple sclerosis but, said the Bishop, always remained cheerful and accepted his illness with resignation and forbearance.
"We offer our prayerful sympathy to his family and many friends.  He was a much loved priest and will be sadly missed.  Please do remember him in your prayers and Masses. May he rest in peace."
Mgr Corley was born at Braintree on 29 September 1939. He was educated at St George's College, Weybridge, and the Venerable English College, Rome. He was ordained priest at the English College, Rome, 27 October 1963.
He served as Assistant Priest at St Mary's, Hornchurch and Parish Priest of St Augustine, Barkingside; St John the Baptist, Ilford; Our Lady of Light & St Osyth, Clacton-on-Sea and Our Lady Queen of Heaven, Harwich.
In addition to his pastoral care of those parishes he was also Defender of the Bond; Advocate; Bishop's Secretary; Judicial Vicar; Chancellor; Canon of the Brentwood Cathedral Chapter; Vicar General; Vicar General for Finance; Chairman of the Social Welfare Commission; served on the Council of Priests and the College of Consultors and had been a member of the Canon Law Society of Great Britain and Ireland since 1964.
He retired in 2003 after 40 years of faithful and dedicated service and the Diocese owes him a great debt of gratitude, said Bishop Alan.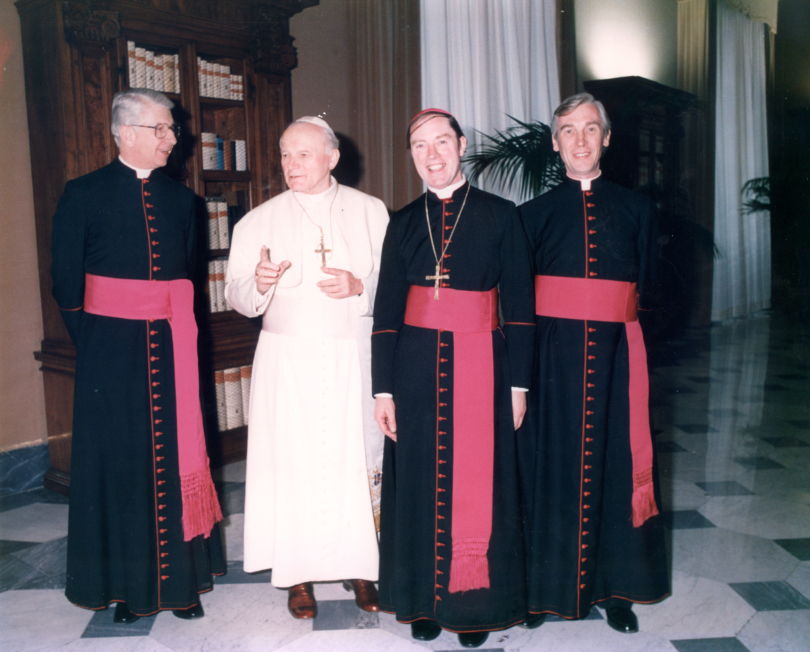 Mgr David Donnelly, Pope Saint John-Paul II, Bishop Thomas McMahon and Mgr Canon Corley