Students and staff at New Hall School, Chelmsford, enjoyed a particularly special celebration this month at their annual Foundation Day, as festivities began for the school's 375th anniversary.
The school, which was founded by the Canonesses of the Holy Sepulchre in Liège, Belgium in 1642, was established at Henry VIII's former Palace of Beaulieu, in Boreham, in 1799. In 2001, Katherine Jeffrey became the first lay principal of the school. Though the religious community are no longer physically involved in the daily running of the school, their presence is still felt throughout and the Catholic ethos remains central to life at New Hall.
The day started with a Mass, a new setting written for the 375th anniversary by composer Jeffery Wilson. The school community was honoured by the presence of the Rt Rev Alan Williams, Bishop of Brentwood, who concelebrated the Mass with the school chaplain, Fr Lee Bennett.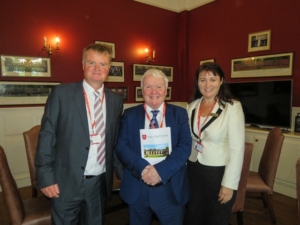 As part of the 375th anniversary celebrations, Director of Music at New Hall, Andrew Fardell, and composer, Jeffery Wilson, (left and far left respectively, with Principal Katherine Jeffrey)made the decision to share the new Mass setting with the world, free of charge, for all to enjoy. All materials for the Mass are now available on the school website, under the 375 Anniversary section.