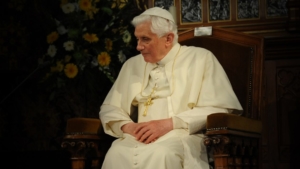 Pope Emeritus Benedict XVI, who served as Supreme Pontiff from April 2005 to February 2013, has died aged 95, the Vatican has confirmed.
A short statement from Matteo Bruni, Director of the Holy See's Press Office, said: "With sorrow I inform you that the Pope Emeritus, Benedict XVI, passed away today at 9:34am in the Mater Ecclesiae Monastery in the Vatican."
Cardinal Vincent Nichols, President of the Bishops' Conference, said: "I am deeply saddened to learn of the death of Pope Benedict. He will be remembered as one of the great theologians of the 20th century.
"I remember with particular affection the remarkable Papal Visit to these lands in 2010. We saw his courtesy, his gentleness, the perceptiveness of his mind and the openness of his welcome to everybody that he met."
"He was through and through a gentleman, through and through a scholar, through and through a pastor, through and through a man of God – close to the Lord and always his humble servant."
"Pope Benedict is very much in my heart and in my prayers. I give thanks to God for his ministry and leadership."
The Catholic Bishops of England and Wales will celebrate Requiem Masses for the repose of the soul of the late Pope Emeritus in their cathedrals.
Prayer cards have been distributed to Catholic parishes throughout the two countries. Prayers will be said for the repose of his soul at Masses this weekend.
Funeral date
Pope Francis will preside at the funeral of Pope Emeritus Benedict XVI on Thursday, 5 January 2023 in St Peter's Square.
From Monday morning, 2 January, the body of the Pope Emeritus will be in Saint Peter's Basilica so the faithful can pay their respects.
Read about his life here: Obituary of Pope Emeritus Benedict XVI
Pictures courtesy of Catholic Bishops Conference of England and Wales