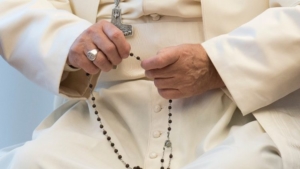 Pope Francis is once again urging all of humanity to pray together for divine help during the coronavirus pandemic. He is to join Marian sanctuaries across the world in praying to the Virgin Mary in an event organised by the Pontifical Council for Promoting the New Evangelization.
At 4.30pm on 30 May Pope will lead the recitation of the Rosary from the Lourdes Grotto in the Vatican Gardens. The event will be livestreamed by the Vatican.
The Decades of the Rosary will be recited by men and women representing the various groups of people who have been particularly affected by Covid-19. These include a doctor and a nurse; someone who recovered from the illness and someone who lost a loved-one to it; a priest, a hospital chaplain, and a nun who is a nurse.
Other participants include a pharmacist, a doctor, and a journalist; an Italian Civil Protection volunteer; and, a young family who welcomed a baby into the world during the pandemic.
The event will be broadcast live throughout the world on a host of Vatican channels, with English-language commentary provided so that people can participate:
Via the Vatican News portal: click here
Via the Vatican News English YouTube channel: click here
Live-streamed on its Facebook page: click here
The event will also be live-streamed in the original language (Italian) accompanied by Sign Language used in Italy : click here
On Sunday 31 May, dioceses across the UK will be involved in a Rosary Relay, contributing to a day-long act of prayer. Our diocese is asked to pray the Rosary between 11am and 12 noon. Bishop Alan will be leading the Rosary via Wickford's livestream after saying Mass at 10am for Pentecost: http://wickfordcatholic.com/live-streaming/  Please join us if you can.