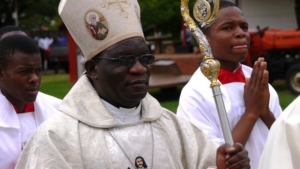 Bishop Declan Lang, on behalf of the Catholic Bishops of England and Wales, has offered prayers for, and solidarity with, Archbishop Robert Ndlovu of Harare (right) and his brother bishops in Zimbabwe.
"Christians across the globe have been inspired by the courage the Zimbabwean Church has shown in defending fundamental human dignity and rights," said Bishop Lang, Chair of the Bishops' Conference Department of International Affairs.
He also praised a pastoral letter titled 'The March is Not Ended' released by Zimbabwe's Catholic Bishops' Conference on 14 August 2020 addressing the current situation in Zimbabwe.
"The recent pastoral letter with its call for truth, justice and reconciliation is both a powerful witness to the suffering that Zimbabwe is enduring and a way forward for the country to emerge from this."
https://www.cbcew.org.uk/prayers-for-zimbabwe-as-the-countrys-bishops-call-for-truth-justice-and-reconciliation/