Catholic international development charity CAFOD is inviting people across the nation, whether supporters or not, to attend a free retreat near them: "Just for one day, take time to be still. Breathe. Come to a CAFOD retreat near you this autumn and feel renewed by God's merciful love. Be inspired to show mercy to your family, your parish, and our world. Come and join us."
As this Year of Mercy draws to a close, CAFOD's retreats will explore how each of us can continue to live out Pope Francis' call to be "witnesses of mercy" in our families, communities and in our world.
A retreat offers an opportunity for attendees to be refreshed and sustained, says CAFOD.  "It will allow you to take time out from everyday life to reflect on your own faith journey, in the company of other CAFOD supporters and in peaceful surroundings. During the day, we will explore the Scriptures and Church teaching together. We will also take time to learn from each other's experiences and to be inspired and enriched by stories from CAFOD's campaigning and work overseas."
The retreats are free of charge. All are welcome, whether involved with CAFOD's campaigns or not.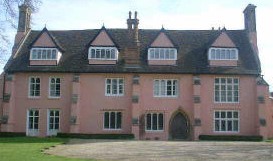 The East Anglia/Brentwood retreat will take place on Saturday 19 November 2016, 10am-4pm at Clare Priory, Ashen Road, Clare, Suffolk, CO10 8NX.  A simple lunch will be provided and donations will be accepted. An optional spiritual reflection accompanied by the folk group Meditation will take place from 4-5pm.
For a list of other venues and to book your place, go to CAFOD's website: http://cafod.org.uk/Events/CAFOD-autumn-retreats