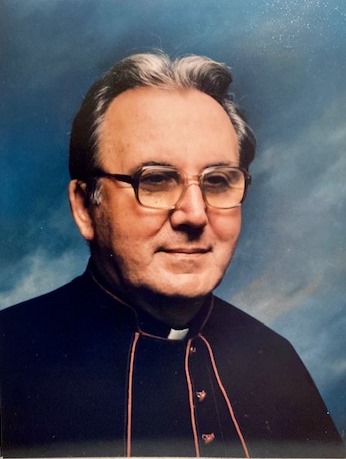 Mgr Henry Posluszny (1930 – 2020)
Mgr Henry Posluszny, who lived and worked for many years in our diocese, died in Poland on Saturday 20 June and his funeral took place in Liskow on Friday 26 June.
Mgr Henry was born in Poland on the 22 April in 1930 and so had recently  celebrated his 90th birthday.
He was ordained for the Diocese of Włocławek, Poland on July 8 1954 and came to England in 1965 to study Psychology.  He first studied English in Cambridge before later obtaining a degree in Psychology at London University. He then worked in East London for nearly 50 years as a priest, a teacher and a psychologist.
He taught RE first in St John's, Upton Park and then Cardinal Pole, Homerton,  as well as lecturing in Psychology in St John's Seminary, Wonersh, counselling priests and religious, doing psychological assessments of candidates for the priesthood and religious life – and doing supply work in parishes both in Brentwood as well as Westminster and Southwark.
On retiring from teaching he became chaplain at St Joseph's Convent, Wanstead and in later years he promoted the Devotion to the Divine Mercy especially in the USA, Australia and Japan.
But perhaps his greatest achievement was establishing and administrating the Kilazycki Foundation to provide bursaries for over 800 Polish priests to study English in London and so help them with their doctoral studies.