Fr James Hawes (1939-2016)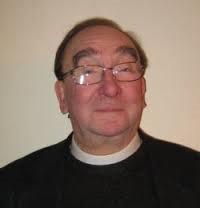 Fr James Hawes, longstanding parish priest at Epping, has died. He was found dead in the presbytery by Deacon Duncan Whitehouse on the morning of 30 June 2016. He was aged 77 years and three months. Funeral arrangements to be announced.
Diocesan archivist Fr Stewart Foster writes:
Fr James Hawes was born in Hornchurch on 13 March 1939 and was educated at St Mary's Primary School, Hornchurch (1944-1950), and St Ignatius College, Stamford Hill (1950-1957). Both of these schools gave many priests to the Diocese of Brentwood: from Hornchurch alone there were Bishop Christopher Budd, Fr Michael Stokes, Fr John Hayes and the late Frs Denis Hall, John Timmins and John Lane.
In 1957, having been accepted by Bishop Wall as a student for the Diocese of Brentwood, Fr James was sent to Grove Park, Warwickshire, a pre-seminary for Oscott College. In 1958 he entered the College of Propaganda Fide, Rome, where Brentwood (as 'a poor diocese' had been given a bursary. He succeeded the future Monsignor David Donnelly on the Propaganda bursary and was himself succeeded by the future Frs Andrew Hurley (who overlapped with him at propaganda for four years) and Adrian Graffy (the last Brentwood priest to be trained at Propaganda). Propaganda, from where students studied at the Urbanianum, is an international seminary and among Fr James' contemporaries were several future bishops, including Cardinal Pell. Indeed, lifelong friendships were forged and in later years James spent several happy holidays in Australia and South Africa visiting former classmates. He gained a Licence in Theology in Rome and was ordained on 19 December 1964. His final years of training at Propaganda coincided with the early sessions of the Second Vatican Council, an event which made a deep mark on Fr James in his life and ministry as a priest.
In 1965, having completed his studies, he was appointed as an assistant priest at Colchester under Canon Bernard Manning. In 1969 he moved to St Mary & St Ethelburga, Barking, where the parish priest was Canon Vincent Hurley, uncle of Fr James' seminary companion, Fr Andrew Hurley (ordained 1968). In 1971 there arrived at Barking a newly-ordained priest from Ireland, Fr (now Canon) John McGrath (who will succeed Fr James at Epping). The two priests enjoyed a close friendship for 45 years, and together with Fr James' brother, John Hawes, it is Canon McGrath who will miss him the most. Given his voracious reading habits (he eschewed the television) and his excellent command of the English language, it was only fitting that Fr James should serve as Literary Editor of the Brentwood Diocesan Directory (1968-1972) under its then Editor, Fr Michael Stokes. In 1972 Fr James was appointed as a full-time member of the newly-established Brentwood Religious Education Service (BRES) team, residing at St Bernard's Convent, Westcliff-on-Sea, where he also acted as Chaplain to the Bernardine Nuns. Fellow priest-members of the team included Fr Michael Butler and the late Frs Brian O'Higgins, Richard Ashton and John Timmins. Of the religious who also formed part of the team the last surviving member is Sr Joan (Etheldreda) Denyer OSU of the Brentwood Ursuline Convent (where BRES was initially quartered). It was during his time with BRES that Father James became actively involved with the Catholic Charismatic Renewal. In 1979 he was appointed as parish priest of Clacton-on-Sea and in 1981 parish priest of Upminster (in succession to Monsignor David Donnelly). In 1991, after 10 years at Upminster, he was appointed as parish priest of Colchester. His final appointment was as parish priest of Epping (2001-2016), from where he had been due to retire in a few weeks' time and to take up residence at Leigh-on-Sea.
Whether as parish priest, Dean, Diocesan Consultor, retreat-giver, spiritual director, inveterate letter-writer to the press, scholarly wit or friend, Fr James was a much-respected figure in the Diocese of Brentwood and beyond. It was he, as the Senior Consultor at the time of the resignation of Bishop Thomas McMahon, who was responsible for drawing up the various reports that had to be submitted to Rome. On the occasion of the Bishop's Farewell Mass, it was Fr James who spoke on behalf of the diocese in gratitude for the Bishop's long years of service.  On a personal note, l might add not only gratitude for his friendship and wise counsel, but also many weekends spent supplying for him at Epping where (with his permission) l had access to his extensive library – especially, in later years, the complete Oxford Dictionary of National Biography. In fact, l had been due to visit him at Epping before he retired in order to discuss arrangements for his kind offer of historical books to be given to the library of the Essex Recusant Society in Brentwood. Those books will now be donated by his executors in his memory.
Requiescat in Pace.