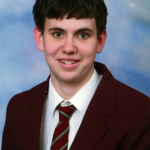 Pupils at Sacred Heart of Mary School in Upminster have been raising money for the Mizen Foundation following a visit from Margaret and Barry Mizen in November. The Mizens' 16-year-old son Jimmy (left) was murdered in South London in 2008. In the immediate aftermath, Margaret spoke of compassion for his killer rather than revenge and promised not to be beaten by Jimmy's death, believing that something good would come from it.
Drawing strength from their Catholic faith, she and husband Barry have since worked tirelessly with young people across the country, sharing Jimmy's story with schools, prisons, youth offending institutes and the Catholic community.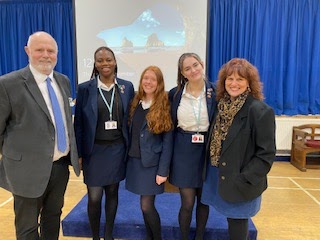 Through the Mizen Foundation, they have created a school programme that aims to develop young people's skills and capabilities, to build safer and more peaceful communities in schools across London. They talk to young people about bullying and anger and the consequences of their actions, encouraging them to think about how they respond to situations, and how they can take control through forgiveness and personal responsibility. The couple were awarded MBEs in 2013 for their work in increasing young people's awareness of the consequences of violent crime.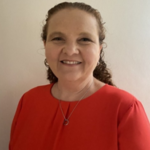 Sacred Heart Headteacher Ms Qurrey (left), who joined the school a year ago from St Bonaventure's, has past experience of the Mizens' schools programme and was keen to invite them to speak. "It is really important that our young people hear their message of forgiveness, peace and hope. We all have arguments but we need to let things go." After the session at Sacred Heart, the pupils raised funds for the Foundation through a 'Jumpers for Jimmy Day'.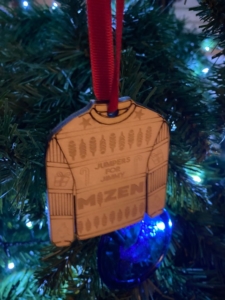 This event saw almost the whole school community, pupils and staff alike, wearing something Christmassy. "We didn't want parents to feel obliged to buy a Christmas jumper for the event so our innovative DT department organised an eco-jumper swap and students could also decorate a jumper themselves too, with tinsel etc," says Ms Qurrey. A competition to design a Christmas bauble also took place. Jessica in Year 8 won the competition and her design was turned into a Christmas decoration, which was also sold as part of the fundraising. "We sent one to Mr and Mrs Mizen for their tree and a memory bauble was placed on our remembrance feature for Jimmy," says Ms Qurrey. "In all we raised £1,300 which will aid the work of the Mizen family with their message of peace, hope and love."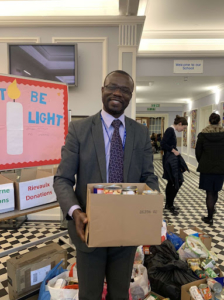 A 'Covid head' who arrived last September, Ms Qurrey has particularly relished the last term in which things have felt a little more 'normal' for the pupils. "Although there have been some ongoing restrictions, the excitement of being all together again has not abated and there have been so much going on." She has been overwhelmed by the generosity of parents, pupils and the local community in supporting the plethora of fundraising activities which have taken place: "£20,000 was raised to buy our wonderful new minibus in just three months, with the Christmas Market raising £8,500 thanks to the fantastic Mrs Jones and her tenacious group of co-planners;  £1,100 was raised for 'Show Racism the Red Card'; 600 shoe boxes went to Operation Christmas Child, and hundreds of items were collected for the Canning Town Food Bank, as well as over £400 for the same cause from the Carol Service and carol singing."
She is impressed by the motivation and creative fundraising ideas exhibited by pupils and staff alike. "The Year 11 girls did a 10K sponsored walk on a wet day in September between their different homes, raising £4,000, for example. And Business Manager Kerry Jones made lots of wonderful things for our night-time Christmas Market, as well as organising many stalls with local craftspeople."
The return of singing was a particular pleasure too. The school's Chamber Choir once again sang carols and Christmas songs outside a department store near Upminster Station, to the delight of passers-by on Friday 10 December. "One lady said how lovely it was to hear children singing again," says Ms Qurrey. And the annual Carol Service at St Joseph's Church broke new ground. "It had to be a ticketed event with limited numbers but we livestreamed it so that for the first time grandparents in the UK, Ghana, Poland and elsewhere could watch. Parents really liked that and we will continue to livestream it going forward."
She is really proud of her new school. "I love it here. The parents are so supportive of the girls and it is a beautiful community. Pupils both 'live life to the full' and enable 'others to have life' – following in the footsteps of our founder, Fr Jean Gailhac, and the Sacred Heart of Mary Sisters."