Phil Kerton and Ben Bano of charity Seeking Sanctuary write:
The plight of children in the camps of the North of France has long been a priority concern for us. Two well-researched reports have recently come our way. Both confirm that vulnerable children are suffering violence, trafficking and abuse and that they are not getting any useful or understandable information to help them to make informed decisions about asylum applications.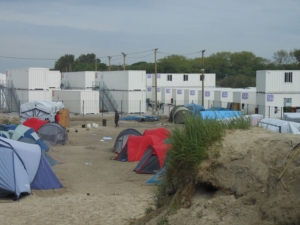 There has been a little progress with reuniting families. On 21 June, the French Interior Minister, Bernard Cazeneuve, said: "In 2015 we received 113 applications for family reunification with a very low rate of success of 23.8%. In the first four months of 2016, 118 cases were submitted with a success rate of 60 %. As of June 2016, 46 transfers had been made, 40 of which were for unaccompanied minors." He added that "dialogue with the United Kingdom is starting to bear fruit for the young people". However, it is many months since volunteers and agencies identified hundreds of individuals with good grounds for family reunification.
What has our government said?
Complacent UK government statements earlier in 2016 had led many to believe that matters are improving, despite the testimony of MPs and others who had visited Calais and nearby sites.
There has been talk of "a permanent bi-lateral standing committee to improve co-operation on Dublin transfers, particularly family reunion"; "secondment of a senior asylum expert to the French Interior Ministry to improve the process for family cases"; and insistence that "child refugees should be safe in Europe".
Considerable mistrust has been generated by aggressive police methods and failures of French officials to fulfil promises to peacefully reduce the area of the Calais camp, without coercion or destruction of places of worship. Despite this, we hear that "anyone who does not want to live in the makeshift camps in Calais has the option of engaging with the French authorities, who will provide accommodation and support". And that "it is vital that a child engages with the French authorities as quickly as possible to ensure that they receive the protection and support they need".
Apparently there is belief that the UK and France are running a joint communication centre at the camp, which informs individuals of their rights to claim asylum in France and gives them information on family reunification and that people go into the camps to deliver this message and make it very clear. The UK has provided funding to identify vulnerable children and ensure that the necessary facilities are there.
Those working alongside the children do not see much evidence of practical impact!
What does UNICEF say?
In its report "Neither safe nor Sound" we are told that the Pas-de-Calais Departmental Council has contracted France Terre D'Asile (FTDA), to attempt to deal with the issue. They claim that teams have contacted the vast majority of unaccompanied children during almost daily visits. But it seems that the FTDA teams are inadequate in relation to the number of sites, the diversity of languages and the mobility of unaccompanied children. Furthermore, it is almost impossible to speak on a confidential basis, given the constant presence of members of their peer groups and adults from their communities. This further reduces the ability of workers to have much impact.
Various organisations, involving activists and citizens, do have regular contact with unaccompanied children and can gain their trust. But these people are rarely trained in working with children at risk, and are not likely to know about details of immigration and asylum regulations. In addition, they are unlikely to speak the language of the migrants – English, French and Arabic are insufficient in most cases.. Information transmittal is uneven and partial and rarely addresses the possibilities of protection in France, in which some youngsters are interested. People must communicate regularly in a language and age-appropriate form, also adapting other communication tools.
Governments need to dedicate sufficient resources to enable family reunification, reducing the duration of the process. The term "family" must be understood in its broadest sense, taking account of the best interests of the child as the most important consideration. Children require access to high quality legal assistance.
Unaccompanied children along the Channel coast can be subject to violations of the Convention on the Rights of the Child, which both France and the UK have ratified. Children's best interests must be taken into account and their rights be respected, wherever they are. France needs to act urgently to give them all access to rights and basic services, including protection from abuse, violence and exploitation, and access to health and to education. Ministers in charge of children's matters must be involved, and share information to ensure that processes are driven by the best interests of the children.
What does "Social Work First" say?
This group of social workers supplies voluntary expertise in refugee situations and members have been working with established groups in Calais to identify unaccompanied asylum-seeking children, and have started to carry out assessments to try to strengthen their legal cases to get to the UK. A report based upon some of their practical work can be access via the "Info" page of their website.
They find that there is no uniform or complete system for recording the numbers of children, their needs – including medical concerns – and their progress. They have formed the opinion that claims are not processed rapidly due to over-reliance on unavailable documentation from the child's home country to determine a link with relatives.
Many children do want to remain in France or are in the process of deciding. One reason may be a lack of engagement and little interaction between FTDA and the young people in places where they gather. Hence they fail to get information about their options and their fears are not allayed. Very few assessments of needs have been undertaken to support the legal claims of children and identify their individual needs.
They propose that better and more uniform records are maintained and that authorities should work with and support volunteers and charities to assist them to effectively collect and share this information. They point out that age appropriate information is presented to young people in a sensitive manner, and that children without families in the UK are supported to claim asylum in France. Each child should have an individual and updated assessment of needs to support their legal claims.
Above all, they urge the French and British governments to assume responsibility, under the UN Convention on the Rights of the Child, and begin to formulate an effective response to the Child Protection crisis within Europe.
What does Seeking Sanctuary say?
It's high time that governments started to listen to people working directly with those affected by their policies and start to fund effective and practical work, instead of making statements and allocating resources solely upon the basis of high level meetings and data that is, at best, second-hand.
It's difficult to imagine serious Anglo-French discussions taking place and genuine progress being made in this febrile post-Brexit political atmosphere. Politicans need to be encouraged by pressure coming from voters. Now is above all the time to lobby and ask for really useful action!
About Seeking Sanctuary. There are currently still over 5,000 migrants in and around Calais (May 2016) and many more near Dunkirk.  Seeking Sanctuary aims to raise awareness about this situation and is organising basic humanitarian assistance through faith communities and community organisations in partnership with experienced aid agencies.
For further information on how you or your organisation can help, contact Ben Bano on 07887 651117 or Phil Kerton on 01474 873802.  To check the latest news, visit our website on www.seekingsanctuary.weebly.com.