en Bano and Phil Kerton of Seeking Sanctuary write: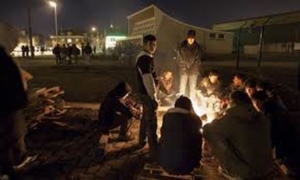 You will be aware of our long-standing concern for lone young refugees who have reached Europe. Hope was raised for UK action when an amendment to the Immigration Bill was proposed by Lord Dubs and passed by the House of Lords. However, this failed to gain enough support to pass through the House of Commons last night and Lord Dubs must try again with a somewhat different amendment. This will be debated tonight in the House of Lords.
Calais Action, as part of the Refugee Task force working on the Dubs amendment, has started a petition on line for the amendment of the bill going into the Lords tonight. This petition calls on Lords and MPs to pass the new amended act and save the lone children in Europe, here –https://www.change.org/p/government-save-lone-child-refugees-in-europe
The new amendment is as follows:
"Unaccompanied refugee children: relocation and support.
The Secretary of State must, as soon as possible after the passing of this Act, make arrangements to relocate to the United Kingdom and support a specified number of unaccompanied refugee children from other countries in Europe.
The number of children to be resettled under subsection (1) shall be determined by the Government in consultation with local authorities.
The relocation of children under subsection (1) shall be in addition to the resettlement of children under the Vulnerable Persons Relocation Scheme."
PLEASE sign and pressure your local council to accept refugee children from Europe. You can do this at the website https://www.change.org/p/government-save-lone-child-refugees-in-europe
You can also email the Lords personally to urge their support here: http://www.parliament.uk/mps-lords-and-offices/lords/
This petition will be delivered to:
UK Government
CONSERVATIVES
Prime Minister of the United Kingdom and Leader of the Conservative Party, David Cameron MP
James Brokenshire
House Of Lords
Lord Keen of Elie
Seeking Sanctuary
There are currently still over 5,000 migrants in and around Calais (March 2016) and many more near Dunkirk . 'Seeking Sanctuary' aims to raise awareness about this situation and is organising basic humanitarian assistance through Faith Communities and Community Organisations in partnership with experienced aid agencies such as 'Secours Catholique'.
For further information on how you or your organisation can help, contact Ben Bano on 07887 651117 or Phil Kerton on 01474 873802. To check the latest news, visit our website on www.seekingsanctuary.weebly.com.