A requiem Mass for Sr Gabby O'Driscoll OSU, inspirational educator, religious superior, distinguished Catholic historian, youth worker, lover of art, poetry and all things German, took place last week in Brentwood Cathedral.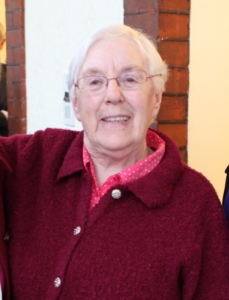 A member of the Ursulines in Brentwood, she taught German and French at the Ursuline Convent High School before becoming head in 1969. She is fondly remembered by the thousands of girls who passed through the school during her fourteen years in office. After a period as Mother Superior, she became a member of the Walsingham House youth team at Chingford, before returning to Brentwood.
Most important of all, says diocesan archivist Fr Stewart Foster, was her role in the foundation in 1958 of the Essex Recusant Society (now known as the Brentwood Diocesan Historical Society) and its subsequent development.
Read his appreciation of Sr Gabriel O'Driscoll.
The funeral was conducted by Fr Andrew Headon, who worked with Sr Gabby at Walsingham House for a period, and Fr David Clemens gave the homily. In it he said: "Each one of us is brought into the world to walk a very personal byway of one of the great classical paths to God; and there are as many byways as there are people to tread them. To my mind, it is a byway of the path of beauty that Gabby was called to walk: the approach to God as the source and origin of all beauty…
"She simply knew that wherever one finds beauty, one sooner or later stumbles across God. In art, music, poetry, literature and human relationships – which are capable of the greatest beauty of all – Deus ibi est."
He added: "Her face would become radiant before a masterful painting – I know, because I was there on more than one occasion; she could become utterly still listening to a piece of music, and she was at once reader, lover and teacher of the great works of literature – in which her beloved home country [of Ireland] is so conspicuously rich."
Both Fr Stewart and Fr David commented on Sr Gabby's youthful spirit. Said Fr David: "She loved young people, encouraged and inspired them and was so good with them – almost certainly because in a very delightful way she remained a young person herself. The approach to God as beauty requires a wonderment of heart: the willingness to be open to receive the world and its hundred thousand things with unwearied eyes, as if for the first time. The enemy of such wonderment is cynicism, which is why – whatever she was – Gabby was never a cynic. Young people responded to and loved her authenticity – and there's nothing like a young person for instantly spotting a fake. Gabby wasn't a fake – she was 100% real."
Read full homily on Sr Gabby RIP here.