The children of St Antony's Primary School in Forest Gate teamed up with a professional film maker recently to produce a new music video about the cost of living crisis for Living Wage Week.  The school is in one of London's most deprived boroughs, with many parents working two jobs and more than a quarter of pupils qualifying for school meals. Says headteacher Angela Moore: "The school is committed to Catholic Social Teaching and has been campaigning with Citizens UK and the Living Wage Foundation to get local employers to pay the real living wage for many years."
Film maker Saloum N'jie, who filmed their latest video entitled Look to the Sky, has three children at the school, and has worked on TV shows including Bridgerton and Luther.
Children from St Antony's have performed a new song every single year since 2018 for Living Wage Week. In 2019 the choir performed Realise, Wake Up, Pay Up at London City Airport as part of a campaign to get local employers to pay the London Living Wage (£10.55 at that time). It is testament to their powers of persuasion that City Airport decided to pay up, which meant a £1,500 a year pay rise for contractors, including cleaners and security staff – many of whom live locally.
Supported by TELCO, the East London Citizens ­Organisation, St Antony's Living Wage campaign had began with a survey done by Year 6 pupils of the local church and school population, which found that almost half of parents earned less than the Living Wage.
The school's work went on to win it a Living Wage Champion award in 2019. It also campaigned during the coronavirus pandemic to try to secure the Living Wage for carers, a notoriously low-paid sector and it was the first primary school to be accredited as a Living Wage employer in 2021.
The likes of London City Airport, Tate & Lyle Sugars and Newham Council are all now Living Wage employers – among 2,500 in the capital.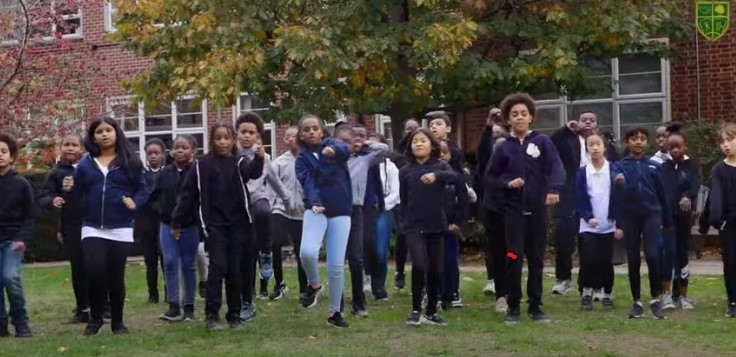 Says headteacher Angela Moore: "Whenever I see the children perform it confirms to me that we are actually fully educating our children. They fully understand the messages they are conveying and the impact that being paid less than the living wage has on their families. They have fathers and mothers who work two to three jobs and are not able to spend quality time with them. They are very clear about what the message is and that this is their platform. They are conscious of the social justice message and are always willing to come out at weekends, after school – they are very committed. For the last five years it has been their mission and their message."
The song itself is written collaboratively, she says. "The process is led by our music teacher Nathan Chan with input from higher level teacher assistant Caroline Verdant and deputy head Yvonne Wade – and parents too. The children also add ideas, words and phrases. It is a collaborative effort."
Says Caroline Verdant: "It's a campaign that's close to our hearts as we see the impact of low pay on our families and community every day."
The children's video featured on the BBC and elsewhere on the media.
St Antony's in 'Look to the Sky'