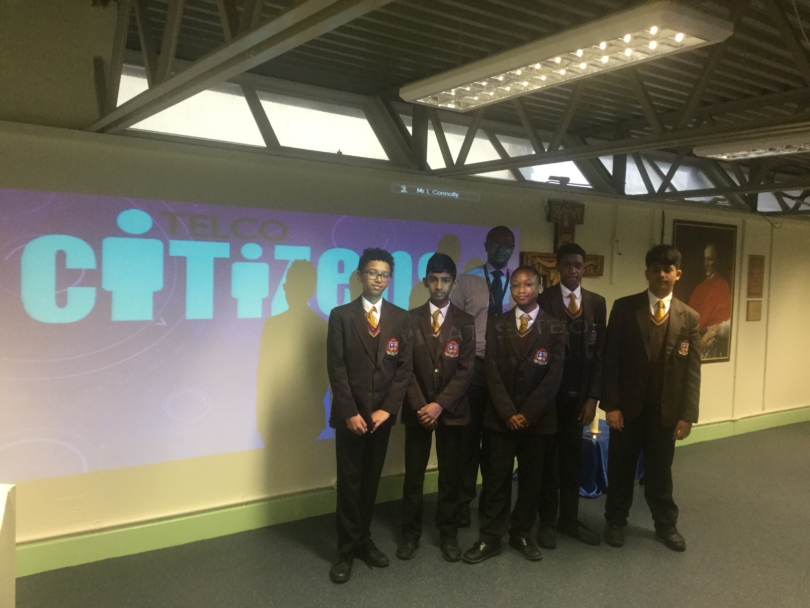 February 1  saw the launch of the St Bonaventure's "Refugees Welcome" campaign which aims to raise awareness of the issues refugee families arriving in Newham face.  
At the Forest Gate school, Year 8 students Ethan Suppaya, Dellon Velichore, Chinedu Uzoalor, Jesse Okoro and Tyler Cullen prepared and led the assembly on TELCO and the Refugees Welcome campaign.  
Assistant Headteacher and Director of RE at the school,  Andy Lewis, said: "I am incredibly proud of these young men who are showing exactly what it means to be a student of the school. They are standing up and bearing witness, while helping those in need. Already they have lots of exciting plans to help raise funds towards the TELCO refugee housing appeal and this campaign is needed now more than ever before. The world seems to have lost some of its compassion and these are uncertain times. I am proud that our students want to help."
The boys have lots of suggestions and ideas to raise money, kicking off with a basketball tournament. After half term they plan to put up a huge display in the main school corridor highlighting the plight of the refugees to raise awareness.
Emmanuel Gotora, lead organiser for TELCO added: "At a time when the global political climate seeks to use fear of refugees to divide communities, St Bonaventure's students are taking the initiative to bring hope in recognition of our shared humanity at a very local level here in Newham."
He says TELCO has committed £6,000 to help house a refugee family in private rented accommodation in Newham. They are asking if a local business or entrepreneur would be willing to contribute to fundraising or help in any way. "If you can help please get in touch with me, Emmanuel Gotora, on [email protected]. It really could make a huge difference."