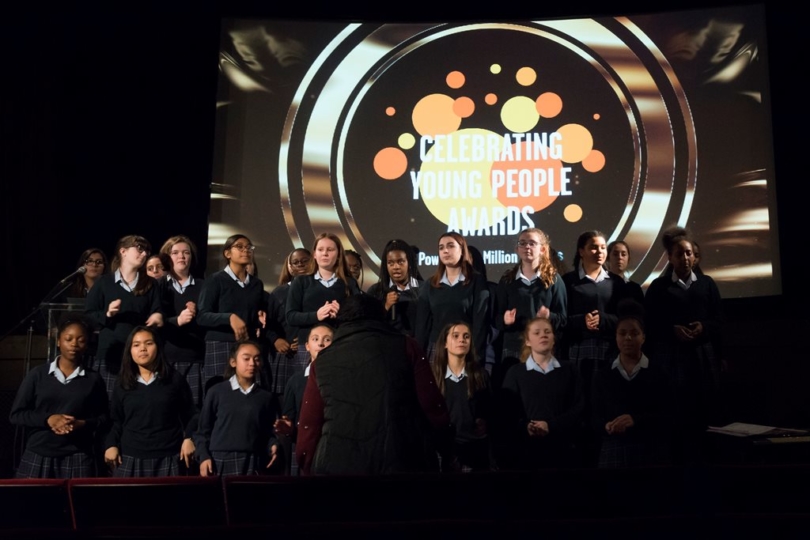 This year's Celebrating Young People Awards have been presented at a glittering ceremony in Central London. The awards – now in their third year – were organised by Million Minutes, partnered by St Mary's University, Twickenham. Hundreds of young people were nominated in six categories, each celebrating a different aspect of Catholic Social Teaching lived out in action. At the awards ceremony on 23 November, around 60 of the young nominees, gathered from around England and Wales, were asked to stand up and be applauded. Danny Curtin, the CEO of Million Minutes said the judging panels were "very impressed by all the young people nominated". Three awards were presented in each category.
Archbishop Malcolm McMahon of Liverpool presented the Pope Francis Award to 18-year-old Aaron Omotosho of the Loreto College in Manchester. Aaron founded and continues to run a project called Help Manchester which encourages young people locally to support day centres that feed and shelter homeless people daily. Aaron studies computing, and has set up a computing project for underprivileged young people in North Manchester. "Aaron is quite unique as all of this is entirely his own initiative, and he genuinely cares about those living in poverty and making their voices heard," says his college chaplain. Aaron is an active member of the college's Social Justice Group having helped raise funds for and awareness of local homelessness charities, as well as CAFOD and Laughter Africa further afield. Archbishop Malcolm congratulated him and the other young people, telling them that "you are not the Church of tomorrow but the Church of today". He described the evening as "uplifting".
Margaret and Barry Mizen, who have worked tirelessly for peace and reconciliation since their son Jimmy was murdered in 2008, presented the Jimmy Mizen award. It recognises young people who have shown commitment to the common good or peacemaking. Winners were Hannah Rai and Zoe Ray from St Mary's Catholic School, Newcastle upon Tyne who organised a recent conference on welcoming refugees; Anna Chapman from St Anselm's School in Kent who is a mentor for younger students with anger or behaviour problems; and Ella Holliday from St Bede's School in Lytham who is a Young Peace Journalist, supported by Pax Christi, and who focuses on the plight of refugees.
St Edward's Youth Catholic Council from Keymer, West Sussex, whose ages range between 12 and 14, were winners of the Cardinal Hume Award for 'living out the option for the poor'. They have thrown a spotlight on the issue of rough sleeping, asking how they as young people can improve the situation for homeless people. Their 'big sleep out' fundraiser got sponsors online and after Masses. They built shelters out of cardboard boxes and slept rough for a night on the church patio to raise awareness. The response from the parish has been enthusiastic, with one person commenting that, "these young people keep our Catholic community fresh and vibrant".
Winners for their environmental work included the 14-year-olds of the eco committee of St Gregory's School in Kenton, North London. After completing a whole school environmental review, they implemented a large number of initiatives and eco campaigns. The group devised a presentation about conserving energy which was shown to all pupils during lessons. CAFOD's Climate Champions included young people who attended the recent international Climate Conference in Germany.
The awards ceremony enjoyed music from the choir of Sacred Heart School in Hammersmith. In her thanks at the end Margaret Mizen, a champion of Million Minutes, urged those present to continue to support Million Minutes and undertake next year's 'siLENT' Challenge.
St Bon's student wins St Josephine Bakhita Award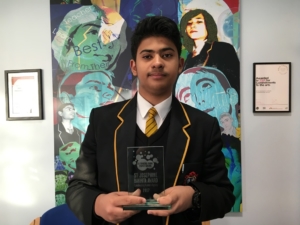 Ethan Suppaya, a Year 9 student at St Bonaventure's School in our diocese, won the prestigious St Josephine Bakhita Award for his work in promoting and protecting the dignity of refugees and migrant families.
Ethan was shortlisted along with groups of students from St Gregory the Great School in Oxford, Bellrive Catholic College in Liverpool, Bishop Milner in Dudley, Ursuline High School in Wimbledon and Loreto Grammar School in Altrincham. The competition was tough as all the students were nominated for doing outstanding work in their school communities. When Ethan's name was announced there was an audible gasp from delighted family and school staff members. He subsequently received his crystal award and congratulations from Archbishop Malcolm McMahon.
Ethan is 13 and his physical challenges haven't deterred him from helping others. When he heard about the Refugees Welcome initiative in school, he went out of his way to get involved in raising money and awareness of the needs of refugees and migrants in London. Basketball crazy, he also organised a basketball match to support them.  When asked by a teacher why he got involved, he said:  "It touched a nerve with me and I felt I had to try and help."
Head teacher Mr Halliwell commented: "Pope Francis has stated that every human being is lovingly and beautifully made in God's image and likeness and that other principles flow from this. Ethan is the epitome of kindness and always shows love for his fellow man. What a beautiful quality to possess."