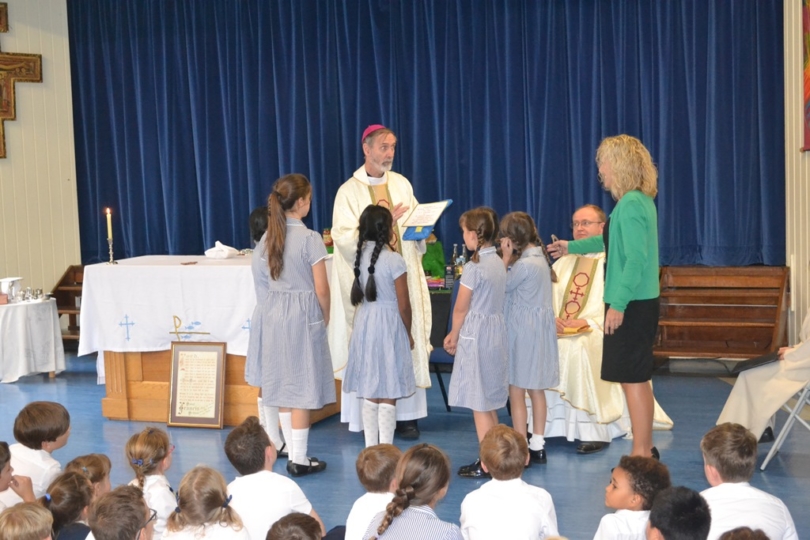 St Francis Catholic Primary School recently celebrated its 60th anniversary. The school was founded In 1957 by Franciscan sisters who moved  to Maldon from Forest Gate. On 4th October 2017, the Feast of St. Francis, the school marked 60 years of education with a special Mass, celebrated by Bishop Alan and parish priest Fr Mark Reilly.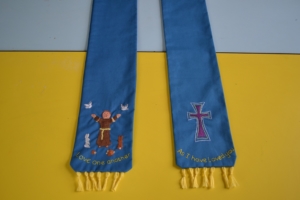 During the homily there was a great deal of interaction between the Bishop and the children with questions and answers and much laughter.
During the offertory, the children presented the Bishop with a framed copy of the prayer of St Francis.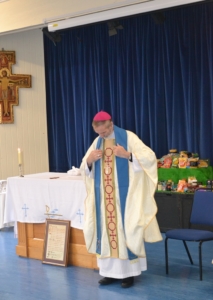 It was a beautiful Mass and enjoyed by everyone. The children – and especially the choir – sang with a great deal of enthusiasm.
At the end of Mass, the Bishop was given a very special present. It was a blue stole beautifully embroidered by the girls in the school embroidery club. The Bishop immediately put it on and was clearly moved by the children's hard work. He thanked them all and said: "I will wear it when I am in Lourdes."
After Mass the children met up with their parents and carers to enjoy a celebratory afternoon tea in the school hall where they had the opportunity to meet the Bishop. It was the perfect end to a special day.
Lyn Collins, Foundation Governor