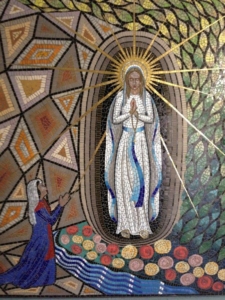 Saturday 11 February sees the inauguration of Centenary celebrations in the Diocese of Brentwood, with Exposition of the Blessed Sacrament in every parish church from East London to the North Sea. The day is significant, marking as it does the Feast of Our Lady of Lourdes, principal patron of the Diocese.
A programme of special events to mark the Centenary will run until 16 November (the Feast of St Edmund of Abingdon (or Canterbury), one of the secondary patrons of the Diocese). Highlights include an evening Mass attended by Cardinal Nichols, bishops and parish representatives at Brentwood Cathedral on 22 March to mark the formation of the Diocese; a celebratory concert given by choirs of the London parishes of the Diocese at St Antony's, Forest Gate, London on Saturday 29 April, followed by Mass at 6.30pm celebrated by Vicar General Mgr Kevin Hale (as Bishop Alan is in Rome); a Brentwood Cathedral Solemn Choral Mass on 18 June at 11.30am celebrated by Bishop Alan – and including the premier of a specially commissioned Missa Brevis composed by Diana Burrell. Later in the summer, all parishioners are invited to join Bishop Alan at a Centenary Celebration at Walsingham on 22 July, to mark the erection of the diocese. In October, there will be a Centenary Music Concert in the Cathedral to mark the Feast of St Cedd, secondary co-patron of the Diocese.
Alongside these events, there will be a schools' competition and an exhibition on the history of the Diocese in the Conference Hall foyer, starting in March. This will then travel to several locations in the Diocese including Colchester, Chelmsford, Leigh-on-Sea, Ilford, Upton Park and Harlow.
There will also be a series of Centenary Lectures at 7.30pm on successive Wednesdays in June at Brentwood Conference Hall: Fr Stewart Foster will talk about Foundation & Early Years, Canon Brian O'Shea will focus on Bishops Beck, Wall & Casey; Fr Martin Boland will talk about The Modern Era, and Dr Paul Docherty will speak on the Patron Saints of the Diocese.
In his recent pastoral letter, the current incumbent, Bishop Alan Williams sm, said: "This year we celebrate our Centenary as the Diocese of Brentwood.  We can look back with great gratitude at the grace of God but we also need to dare to be brothers, sisters and, yes, mothers of Christ in the world in which we live. We must seek new and creative ways of sharing the great treasure of our Catholic Christian faith in a world hungry for the justice and peace of God's Kingdom."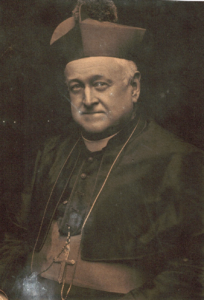 Brentwood is the only diocese to have been originally part of the Archdiocese of Westminster, from which it was separated in 1917. Pope Benedict XV appointed Monsignor Bernard Ward (left) as Titular Bishop of Lydda and Apostolic Administrator of the new Diocese of Essex on 22 March 1917. Bishop Ward was consecrated by Cardinal Bourne in Westminster Cathedral on 10 April 1917.
Initially, no name was given to the new diocese, save that of 'Essex', because a decision had to be made as to where the new bishop would reside. As well as being a distinguished educationalist and the foremost historian of English Catholicism of his generation, Bishop Ward was also something of a railway buff. Hence the choice of Brentwood as his seat – its station was the first on the London side of Shenfield junction, which gave access to the Colchester and Southend lines. Moreover, Brentwood itself boasted a fine, although modest, church which would become the Cathedral, as well as a number of convents and Catholic schools.
The Diocese of Brentwood was formally erected on 22 July 1917 and Bishop Ward was named its first Ordinary. He died on 21 January 1920 and is buried at St Edmund's College, Ware, the very place where he had been born and educated and where he had spent most of his priestly life. Bishop Ward had a great devotion to St Edmund of Abingdon (or Canterbury), hence the choice of that saint as a secondary patron of the new diocese (together with St Erconwald and subsequently St Cedd). Moreover, Bishop Ward's great personal devotion to Our Lady's shrine at Lourdes ensured that Brentwood was the first diocese in England & Wales to have Our Lady of Lourdes as its principal patron.
Diocesan Archivist Fr Stewart Foster has produced a pictorial booklet, spanning the life of the Diocese over 100 years, which will be available at various events. A prayer card will also be distributed to parishes.

DIOCESAN CENTENARY PRAYER
Almighty and merciful Father,
bestow your grace upon the Diocese of Brentwood
as we celebrate our Centenary Year.
We give thanks for the witness of past generations
and pray for a fresh outpouring of the Holy Spirit
that we may be ever more faithful to proclaiming the Gospel of Christ.
Bless Alan our Bishop, the Clergy, Religious and Faithful of our Diocese,
and graciously grant plentiful vocations to the Priesthood,
the Consecrated Life and the Sacrament of Marriage.
Strengthen us in the communion of faith, hope and   charity,
united in prayer with our Holy Father the Pope and the Universal Church.
We ask this through Jesus Christ, Our Lord. Amen.
Our Lady of Lourdes, pray for us.
Saints Erconwald, Cedd and Edmund of Canterbury, pray for us.