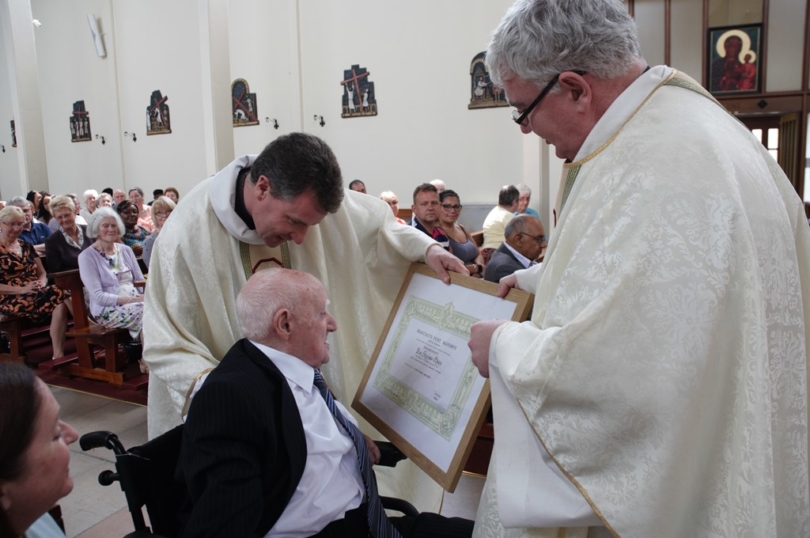 Stephen Myers, the father of Fr Stephen Myers, has received the Benemerenti Medal for his work over more than half a century in the parish of St Basil's and the wider community. The medal is an honour awarded by the Pope to members of the clergy and laity for service to the Catholic Church. Now in a wheelchair, Stephen Myers received the award from parish priest Fr Dominic Howarth and Fr Stephen, who is parish priest at Holy Family, Dagenham.
In a moving tribute, Fr Stephen described the many aspects of his father's witness over 60 years, which ranged from more mundane tasks such as cleaning the church, securing raffle prizes and selling tickets to his work with the Knights of St Columba and his role in welcoming people to Mass. He was also one of the first to become a Special Minister of the Eucharist and was ahead of his time in promoting ecumenical issues.
Afterwards, Fr Stephen said: "My Dad is getting frail these days and has limited eyesight but he was close to tears when everyone in the church stood to give him a standing ovation. Many days later he was still talking about those who barely know him standing and thanking him. It was a great privilege to be able to give my Dad the recognition that he deserves."
Fr Stephen's address:
My parents Stephen Myers and Bridget (Breda) McSweeney married in 1953 in Blackpool Church in Cork city, Ireland. Their marriage was conducted by Fr. Murphy-O'Connor (the Cardinal's uncle). They moved to England immediately and lived in Woolwich at first.
When they were given a house to rent in Basildon it was such a relief, that they said they would dedicate themselves to helping the Church.
The following weekend they introduced themselves to the parish priest, Canon Barrett, and worked for the parish and the community from then on. During the years the four children were also involved in the parish, which became very much their second home. For example Mum and Dad would clean the church every week for many years 'helped' by the family. I clearly remember dragging a vacuum cleaner around the church that was bigger than my 6-year-old self.
In total Dad worked for the parish of St. Basil's and the community of the Irish Sisters of Charity for over 50 years. Dad was either working all the hours that he could in Ford's Radiator Plant or was doing as much as he could for the church.
For example he would walk around the markets at Pitsea, Romford and Wickford in all weathers to collect donations for the Christmas Bazaar, to great success. Indeed he became so well known by the stallholders that they would often have already put something by ready for his visit. I remember as a child seeing some wonderful goods coming into my house only for some nun to come and take them away. In addition, he would also go to all the pubs in the area collecting for the bazaar, being driven by one of the sisters in the convent.
At many a social event and parish bazaar he would sell raffle tickets, with prizes ranging from a hair perm to a bottle of whiskey. I have often thought that he could sell raffle tickets to almost everyone. Once when he was trying to sell Bishop Casey raffle tickets for a perm, the bishop asked what he would do with a ticket for a perm.  Dad replied: "He buys one ticket and expects to win!"
He was active in the Knights of St. Columba for many years: his roles included setting up the young wing called the Squires and he was also Grand Knight. He was involved in the Knights of St Columba's, 'Put Christ Back Into Christmas' Campaign. This was sparked by an event that happened while he was in Basildon town centre: he heard a lady say "Look they're even trying to bring religion into Christmas now!"
He also worked to promote ecumenical issues within Basildon, with the first meeting taking place in Curling Walk – in this respect he was way, way ahead of his time (and experienced resistance as a consequence). He was one of the first parish reps for the Movement for a Better World. This was the start of breaking parishes up into areas.
He was one of the welcomers at the Masses in the parish. In many respects this is his greatest legacy. He would often attend all the Masses at St. Basil's and welcome people to the Mass and indeed to the parish if they were new. Many, many people have mentioned this to me in over the years.
Along with my mother, he would organise parish pilgrimages to Walsingham, Aylesford and Lourdes.
He was among the first group of people to be made Special Ministers of the Eucharist and when he finally retired he would visit the sick in the hospital until my mother needed his care due to her stroke.
Going beyond the parish he was a volunteer at the Samaritans for many years.