Bishop Alan Williams sm has written to parishes in the wake of the Russian invasion of Ukraine.
He talks about Pope Francis' invitation to make Ash Wednesday, 2 March, a Day of Fasting for Peace, quoting his words: "Let believers dedicate themselves intensively to prayer and fasting. May the Queen of Peace preserve the world from the madness of war."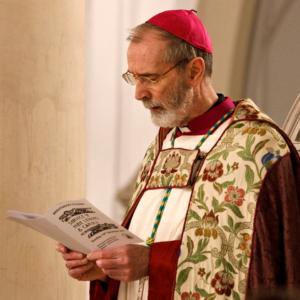 He also refers to Cardinal Vincent Nichols' call for an immediate cessation of the Russian attacks in Ukraine and for the protection of innocent civilians.
Bishop Alan shared a letter from Bishop Kenneth, the Eparchial Bishop of the Ukrainian Catholic Church in Great Britain, who asks all people of good will to continue to pray for peace, thanking them for their prayers in recent weeks.
Bishop Kenneth said: "I want to thank you all for these prayers and for standing with Ukraine. Now more than ever before your prayers and your acts of solidarity with the Ukrainian people are needed. We call upon our government leaders and those in positions of power to remain steadfast in support of Ukraine against those who are waging this war upon the innocent citizens of Ukraine."
In his message to parishes, Bishop Alan added: "Please do anything you can to support our suffering brothers and sisters in the Ukraine and above all let us hold them in prayer in our parishes and communities."
He concluded: "As we approach Lent – 'this great season of grace' – I ask everybody in the Diocese of Brentwood to remember these urgent intentions in their prayers."