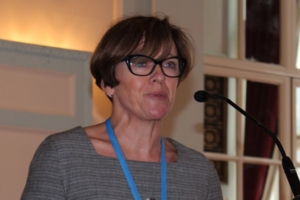 Helen O'Shea has been elected as the first female president of the St Vincent de Paul Society (SVP) in England and Wales. She will become the charity's 19th national president, when she succeeds Adrian Abel at the end of his term in November this year.
Helen said: "I am honoured and proud to have been elected to serve as the next national president of the SVP. Our charism of fighting poverty and injustice through befriending and practical help is as important today as it ever has been. I am committed to nurturing that charism and finding new ways to extend the hand of friendship and welcome to those at the margins of society."
A member of the SVP's volunteer group at St Joan of Arc parish in Highbury, London, Helen (51) is a married mother of three, a former barrister and has been an SVP Trustee since 2012.
Looking to the future, she said: "As a member I know from first-hand experience that the SVP's work is really worthwhile. But we must find ways of being relevant in the modern world, while maintaining the history and the mission that has always been the absolute core of SVP work. Visiting and befriending are incredibly important and the heart of our work, but how else can we reach out to others in need? We need to seek and find the hidden poor, like prisoners and refugees, and to ensure our projects have a real impact for those in need, while at the same time attracting members who might be interested in other ways of working."
The St Vincent de Paul Society (SVP) was founded in Paris in 1833 and has operated in England & Wales since 1844.  It aims to tackle poverty in all its forms through the provision of practical assistance to those in need. It carries out visits and befriending work through around 1,000 parish-based volunteer groups which are complemented by additional areas of activity – community support projects (including community shops, furniture stores and advice centres), youth work, holiday provision and overseas aid. The SVP currently has just under 10,000 voluntary members and 500 community support project volunteers and is part of a larger international society operating in 150 countries worldwide.