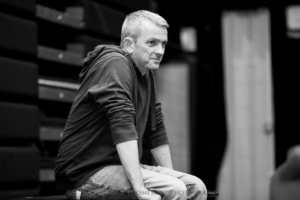 Catholic theatre, film and education company Ten Ten celebrated its 10th anniversary with a special event at the Curzon cinema in London's West End on Saturday 24 June. Founded by Martin O'Brien (left) and his sister Clare, Ten Ten has seen its work grow exponentially over the last 10 years. In our diocese alone, the company has worked with 35 schools over that time.
At the event, Martin announced that more than 850,000 children, young people, young offenders, teachers, parents and members of the public have been in the audiences of plays and workshops over the 10 years.  Highlights include the theatre productions of Kolbe's Gift and This Is My Body, its award-winning play on human trafficking.
The June anniversary event included a screening of two new short films recently produced by Ten Ten as part of their new cinema-in-education venture: Babies is a 30-minute film based on the original Ten Ten play of the same name about pregnancy and abortion, and Love, Honour, Cherish explores teenage relationships including sexting, chastity and marriage.  Both films are currently available to secondary schools as part of Ten Ten's Relationship and Sex Education programme.
Guest speaker Fr Christopher Jamison OSB praised Ten Ten, saying that its success is due to the fact that it combines "high-quality writing, performances and production with good management skills – all at the service of the Gospel".  He highlighted how the combined skills of siblings Clare and Martin in arts management and creative production have been at the heart of the success of the company.
Anna O'Brien, Clare and Martin's mother, was given a special commendation at the end of the evening for over 10 years of full-time voluntary service to Ten Ten.  Fr Christopher presented her with a papal blessing for "supporting the spiritual, moral and cultural development of children and young people". Ten Ten has exciting plans for development in the future including a significant programme of online resources for Catholic primary schools, the development of a new workshop on human trafficking for secondary schools, and a commitment to develop new film and theatre productions for mainstream audiences.
Read Ten Ten's story here:
Article-It-started-around-a-kitchen-table-by-Martin-OBrien
For more information, visit: www.tententheatre.co.uk