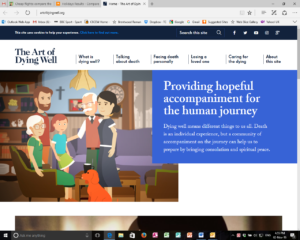 The Art of Dying Well website and its podcast series won the Jerusalem Award for digital audio at an awards ceremony held at BAFTA recently.
The Jerusalem Awards have been recognising high-quality Christian broadcasting for over 22 years. Entrants range from university students hosting programmes on local radio to Goggle-box-star Rev Kate Bottley's short film about Christmas. All entrants have a passion and skill to increase understanding of Christianity and its values via broadcast media.
The Art of Dying Well podcast series was shortlisted from 17 entrants, which included Christians in Sport, the Clifton Diocese and others. The judging panel described the series as a "professional and sensitive exploration of the topic" of death and dying.
James Abbott, podcast editor and co-presenter, spoke of the importance of bringing the conversation of death to a wider audience. "One of the main aims of the podcast, and in fact the whole Art of Dying Well project, is to take the fear and anxiety out of our conversations on death and dying. We talk about everything from palliative care, child bereavement and mental health issues to funerals, remembrance and spirituality.
"It's a wonderful award for the podcast, but more importantly, we're delighted the panel recognised that conversations about death and dying – this very human journey – are well worth having."
The Art of Dying Well would like to thank all podcast collaborators for their expertise and the time that they have given to the series.
You can find all episodes of the podcast series and more at http://www.artofdyingwell.org/podcasts/
http://catholicnews.org.uk/aodw-jerusalem-award-2017