Sophie Pereira, a CAFOD delegate at COP26, is also a member of the Walsingham House at Abbotswick team. Here she talks about her experiences in Glasgow.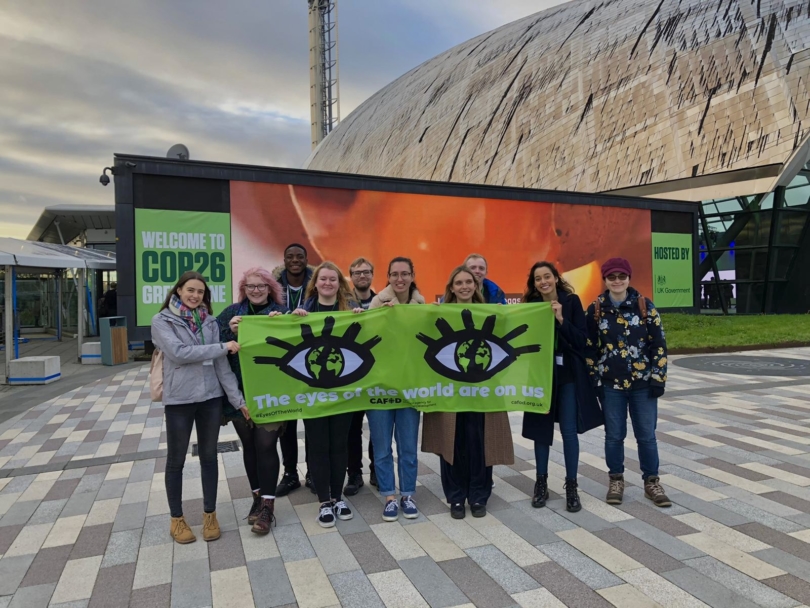 On the first weekend of November, I had the most incredible opportunity to travel to the 2021 United Nations Climate Change Conference or otherwise known as COP26. A 'COP' means 'conference of parties'. Governments and negotiators from across the world travelled to the meeting to discuss how to keep temperature rises below dangerous levels and prevent the climate crisis from causing even worse catastrophes for the world's poorest and most vulnerable people. I travelled as a CAFOD delegate (the Catholic Agency for Overseas Development) and I met over 30 other delegates and spent the weekend with them. Essentially, by the end of COP26, CAFOD hoped to achieve the following objectives:
'Keep 1.5 alive' – countries need ambitious plans to limit global temperatures to no more than 1.5 degrees.
Deliver the money promised to tackle the climate crisis – richer countries must mobilise at least $100bn in climate finance every year until 2025 to help low-income countries.
Stop using fossil fuels once and for all – collectively commit to consigning fossil fuels to history.
So with all that in mind, I made my way to Glasgow. Initially, I was extremely nervous to attend this massive global event. I wasn't entirely sure what to expect but shortly after arriving at Glasgow Central station, I was greeted by a tremendous protest. I spent some time standing in awe at the hundreds of people gathered, fighting for climate justice. It was quite intimidating to know I was going to be participating in that same protest the following day and would be surrounded by a sea of people.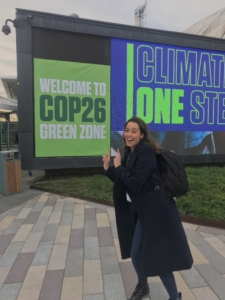 I dropped my bag off at the hostel round the corner, met a few other delegates and made my way to the COP26 Green Zone. The Green Zone was essentially where multiple groups and organisations across the UK and all over the world host events, exhibitions, cultural performances, workshops and talks. There were over 100 exhibitors, 200 events and 11 sponsors taking over the space. There, I got the chance to engage in talks about the importance of saving the environment, play some fun games and chat to multiple radio stations and tv crew about why young people should be heavily involved with COP26. I really enjoyed the Green Zone as a great way to listen, learn and celebrate climate action.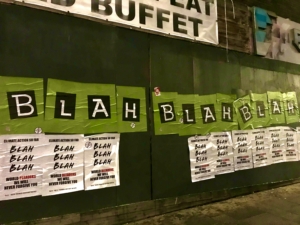 Shortly after, we journeyed to St Aloysius' church to host a livestream liturgy as part of a 24 hour vigil at the church. I really enjoyed the liturgy, and it was an absolutely magnificent church. I had the opportunity to be involved personally in the liturgy, reading the bidding prayers. Being with other delegates made me feel really welcomed and grateful. After the liturgy, we headed back to the hostel. On the way back I spotted a few different posters around the city promoting the COP26 conference. One in particular I liked, had the words 'blah blah blah' written all over it, quoting Greta Thunberg's speech earlier during the conference. I spent the rest of the evening getting to know the other young delegates better.
The next day we woke up bright and early to prepare for the protest. This was probably the most significant part of every delegate's journey at COP26. We had a briefing about dos and don'ts and then journeyed to Kelvingrove Park to start the protest. We needed to march in a specific order, with CAFOD marching with the religious groups. Unfortunately, that meant two and a half hours waiting in the torrential rain and cold. At that point, all of our placards with our messages had been destroyed by the weather, and the hope and determination carried since then had slowly faded. It was only after we started to walk and make some noise that I suddenly felt like I could walk for hours. I was so happy and energetic, as if God had literally given me back all the hope and joy I felt two hours ago. Over 100,000 people were involved in the Saturday protest that day. In addition to that, there was protest in every continent in the world which was absolutely incredible. The magnitude of people involved shows how important this was for so many individuals from all over the world. It made me feel like I wasn't alone in fighting. We marched for over three hours that day and I genuinely loved every second of it. I will admit getting out of my soaking wet clothes and sitting in the warmth did also feel really good!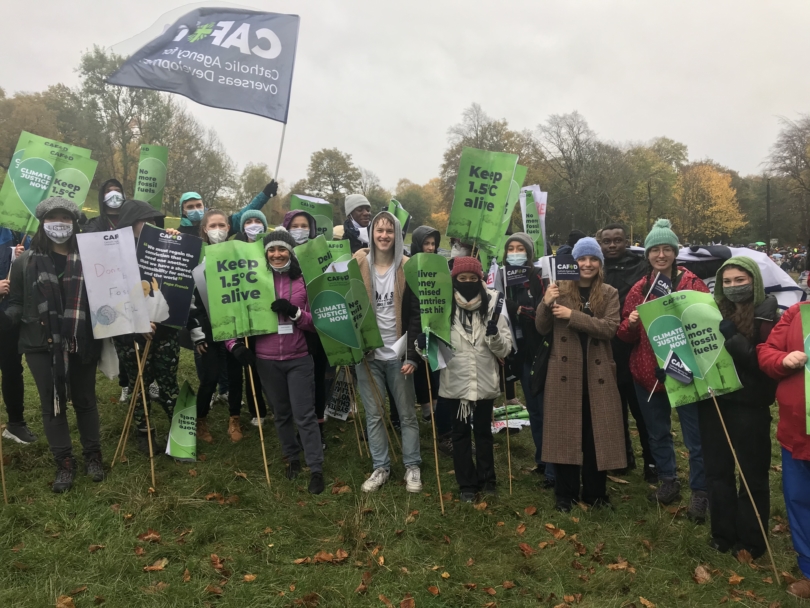 In the evening we had a talk from CAFOD'S COP delegates from the Blue Zone. The Blue Zone is where the key negotiations between world leaders takes place. Only certain organisations may access this space. We spoke to Neil Thorns, Head of Advocacy, Robin Mace-Smith, Policy Analysist for Climate and Energy, and Frances Leach, Press Officer. This event was one of my favourite highlights of the trip. It was so exciting interacting with people so close to all the action and I really had a full experience of being able to speak for those who couldn't.
On Sunday, we had a free morning to explore the city of Glasgow. I decided to join a few others for an event about 40 mins away. The walk was a great way to get my sightseeing in but when we arrived, I found out the event was hosted by LEGO! The LEGO Group urges world leaders to take note of children's views on addressing climate change. What they did was give children the opportunity to create solutions to eco challenges using LEGO bricks. The best builds were to be exhibited during COP26. We ended the trip with a mass at St Aloysius' church for the Conference delegates. Every single pew was completely filled and there was a beautiful choir at the top of the entrance. It was a lovely way to end my trip to COP26 and be surrounded by so many Catholics who all had the same faith-driven mindset that we should care for the world we live in.
Overall, I really enjoyed my experience at COP26. The energy was constantly electric and I found the most love and joy being with others. I built new friendships, learnt so much more about the ever-changing world and helped spread the message about building for the future and making our voices heard. I can only hope that the world leaders keep in their hearts the next generation, those who are affected most by the climate crisis, and the future of our common home.