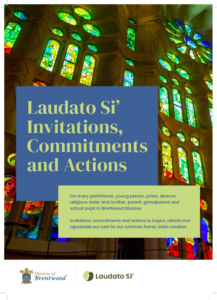 Bishop Alan Williams sm has written to all parishes today to launch the diocesan initiative Laudato Si' Invitations, Commitments and Actions.
In his pastoral letter, he says we are at a pivotal moment in the life of our planet, as fires, floods and earthquakes ravage different parts of the world. "As we consider the children in the Gospel, so precious in Jesus' sight, we have to ask ourselves what kind of world we are handing on to our children, and children yet unborn?"
He says our response to this crisis must be rooted in our faith. From Genesis right through to the teachings of Pope Francis, care for creation and justice for the world's poorest people are key parts of that faith, he says.
"We find ourselves at a moment which will define how human beings respond to the challenges of Climate Change. In less than a month world leaders gather in Glasgow, and the decisions they make will affect us all. So today you are receiving information about what the Diocese is doing, and what you are invited to do, as individuals and as a parish. As part of this, each of us are asked to make three personal pledges, three ways in which we will act differently.
This is not just another environmental campaign; it is an integral part of our faith. In making your personal pledges – in working to heal the planet and in striving for justice for the poorest people in the world – you are a living witness to Jesus Christ: do not be afraid to tell people why you are doing whatever you choose to do."
Read the full letter here: Pastoral Letter for the launch of Brentwood Diocesan Laudato Si Invitations Commitments and Actions
Go to https://www.dioceseofbrentwood.net/laudatosi for more details.