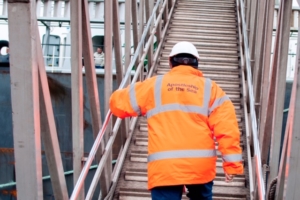 When a seafarer signs a contract to work on a ship, he knows that he is taking on a dangerous job. He will have not only to navigate slippery decks and deal with heavy equipment, his vessel might be battered in a storm, collide with another ship, catch fire, or even sink. And he might get killed.
Last September, Wojciech Holub, Stella Maris, Apostleship of the Sea (AoS) chaplain to the port of Tilbury in Essex, provided pastoral support to the crew the chemical/oil tanker Key Fighter after two seafarers died on board.
The two men, a Spaniard and a Filipino, were found unconscious in an empty cargo tank, which they were cleaning, after being exposed to hydrogen sulfide gas. Other members of the crew lifted them out of the tank and performed first aid.
The men were airlifted by helicopter to a hospital in Norway, but died a few hours later. Each of the men left behind a wife and two children.
Wojchiech boarded the ship when it docked in Erith, on the south shore of the Thames.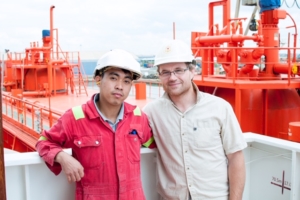 "The crew were terribly distraught and overcome by sadness. One of the dead men was very much a father figure to the crew, while the other was a close friend to several of his crew mates," he said.
At the request of some of the Filipino crew members, Wojciech blessed the cabins and the cargo hold area.
"We prayed together, and I encouraged them to speak about their grief. It was very emotional and several of them broke down in tears during our conversations.
"One of the deceased seafarers had been due to retire and was on his final contract of employment. He had joked that he would probably die while at sea. It really was his final voyage.
"Another crew member said he found it particularly difficult to accept the situation because he recently lost his son to an illness and had now lost a very close friend.
"It was a terrible time for the seafarers, but they were grateful for our presence and reassured by the pastoral support AoS provided."
Incidents like this rarely make the news, but there are many accidents and deaths at sea each year.  According to the most recent figures from the International Maritime Organisation, in 2015/16 there were 206 incidents, 86% serious or very serious. How many injuries and deaths occurred is not known, but in 2012, 1,100 seafarers lost their lives at sea.
In the past year, AoS port chaplains around the coast of Britain have dealt with 60 cases where seafarers have been injured or died at sea.
On Sunday 14 July, the Church asks us to support the vital work of AoS, whose port chaplains and volunteer ship visitors provide practical help and pastoral care to seafarers, who go to sea to provide for their families back home.
Seafarers might seem remote from our lives, but without them taking the risks they do we would not be able to buy many of the things that we rely on. Cars, computers, phones, fuel, many types of food, all of this travels by sea.
Without seafarers, all our lives would be more difficult and poorer.