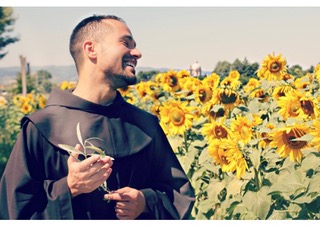 The much acclaimed 'Voice From Assisi', Friar Alessandro Brustenghi, is returning to perform in London once again – the destination of his first ever flight on a plane and where he recorded at Abbey Road studios in recent years.  Friar Alessandro will sing at St George's Roman Catholic Cathedral in Southwark at a charity concert on 6 May to raise funds to support CAFOD's East Africa Crisis Appeal and Caritas Bakhita House (which supports women who have escaped human trafficking). An acclaimed tenor, his three CDs, entitled Voice from Assisi, Voice of Joy and Voice of Peace, have been heard throughout the world.  In recent years he has performed at the Royal Albert Hall in London in a programme that was recorded for the BBC.  Only in March this year "Voice from Assisi" was heard across America in a PBS special screening.  His visit to St George's RC Cathedral London in May precedes a tour in America.
Friar Alessandro's musical performance is at the heart of his vocation as a Franciscan friar.  Any proceeds from sales of his music go to support the Franciscan missions overseas.  Opportunities to see his inspiring live performances are rare and are only allowed with the permission of his superiors.  Friar Alessandro said: "I am very pleased to be returning once again to London where I recorded my first two albums with Decca Records.  I am honoured as well by the invitation to sing at St. George's Cathedral and happy that the proceeds will be going to two very worthy causes."
The musical director and pianist, Justin Harmer will support Friar Alessandro's performance  at Southwark and that of the supporting act, the soloist Jay Britton.
The Archbishop of Southwark, the Most Rev. Peter Smith, and the Cathedral Dean, Canon Richard Hearn, have generously agreed to host the event at St George's RC Cathedral.
Archbishop Smith said: "I am delighted that Friar Alessandro has generously agreed to deliver a wonderful concert in the historic building of St George's.  His vocation is a great example of how we all can be inspired to live our faith and celebrate the joy of the gospel in the service of others."
There is no charge for entry but admission will only be possible with a reserved ticket available via voiceofassisi.eventbrite.co.uk
Download poster: Friar Alessandro