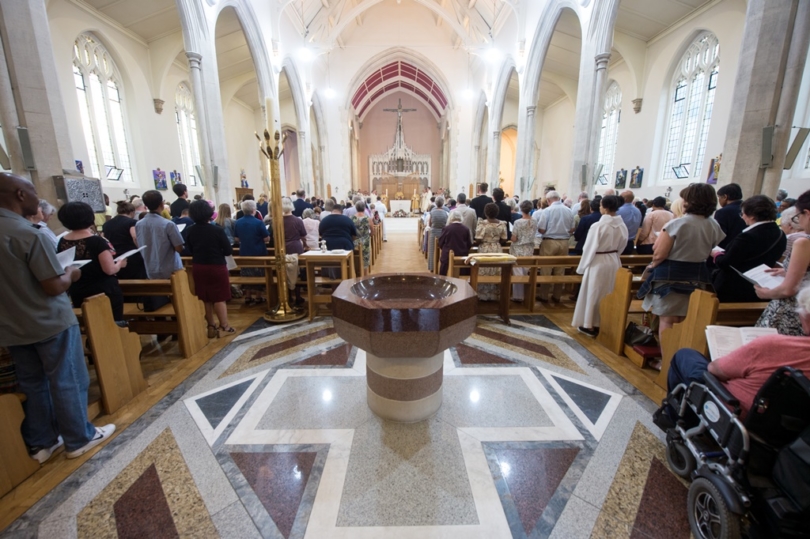 The 19 July marked a significant celebration for Our Lady of Lourdes, Wanstead.  At a Mass of Thanksgiving held to mark the 90th anniversary of the church, Bishop Alan Williams ordained Gary Dench, who has been in training for the priesthood, to the Diaconate. Then, parishioner Derek Kelly received the Papal Benemerenti medal from Bishop Alan for his work in the parish.
Wanstead parish priest, Canon Pat Sammon, said: "The 90th anniversary of our church is an important occasion and significant milestone for the Catholic Community here. The Church was sustained, and has been sustained, by the people of God here in Wanstead for 100 years. Long may the faith continue to grow and thrive here. I congratulate the community, remembering with gratitude Fr O'Grady, Fr Booker, Fr Hemming and Fr Creede, those great pioneers of Wanstead Parish, under whose spiritual leadership it has blossomed. May they rest in peace and all the people, thousands of them, who played a part. We remember especially Mrs Pat Hetherington, aged 98, who was present at the opening 90 years ago."
He asked the parish to pray for Gary Dench, who has worked in Wanstead since November last year. "His ordination to the Diaconate is a great blessing. I thank him on behalf of the  community for his work here and wish him well in the future as he continues his pastoral training and prepares for ordination to the Priesthood."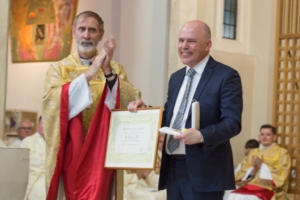 Canon Pat also congratulated Derek Kelly on his award, thanking him for his years of commitment and work in the field of Catechesis, evangelisation and handing on the faith. "His Benemerenti is well deserved."
He concluded: "God bless our parish. May we go forward in faith and hope under the patronage of Our Blessed Lady of Lourdes."
The church opened on the 14 October 1928.
Photos by Alexander Balzanella 
Journey to ordination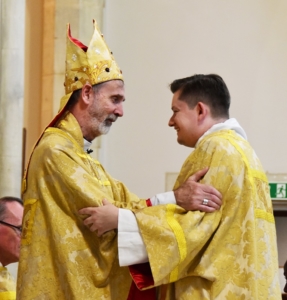 Gary Dench's diaconal ordination added a special blessing to the centenary celebration at Wanstead parish. He says: "It was a wonderful day – the parish made it special. On the day itself, I was very busy doing practical things and when I got butterflies, Fr Pat told me to take a moment. Becoming a deacon is a very important step – promising celibacy, obedience and prayer."
Gary's journey to priesthood began with his conversion to Catholicism. "I began life as an Anglican but when my grandmother took me to Walsingham I began to feel drawn to Catholicism through the procession of Our Lady, the rosary and Eucharist. That all fell into place when I was received into the Church by Fr Sean Shields in 2004."
Later on he began to think about priesthood and after a four year degree in Theology and Church History at Edinburgh, and work for an MP, a law firm and in politics, he decided to pursue his vocation.
After a year at Valladolid, he went on to study at the English College in Rome.  "The inspiration of an Anglican vicar I knew as a child, and the support and kindness of priests over the years in Rome and the diocese have brought me to this point," he says.
Gary has been working in the parish of Our Lady of Lourdes at Wanstead since October – and has enjoyed the experience. "Seminary is a bit of a goldfish bowl – you can feel distant from what you are called to do, living in community. So it is good to have that time in a parish to see what it is all about."
His next experience of parish life will be in Colchester. Gary advises anyone who thinks that they may have a vocation to go for it. "It does seem a long period of time in training because it is but it is worth it. So find out what God has in mind for you."