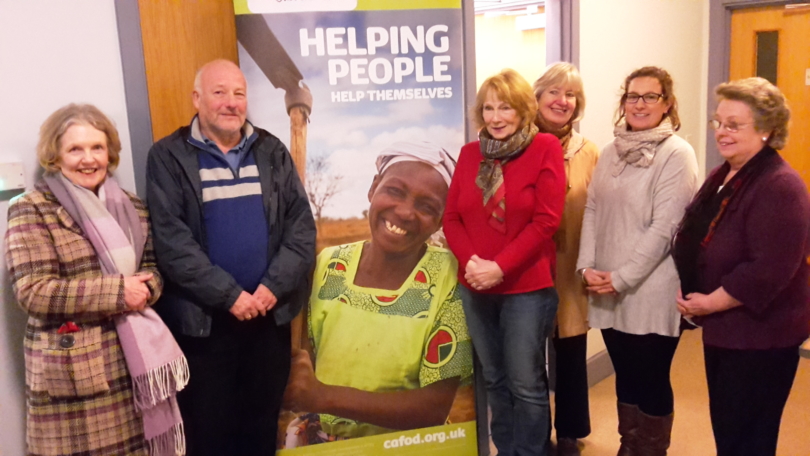 The Catholic parish of Our Lady of Lourdes, Wanstead, has raised an incredible £35,000 for the community of Sebeya, Ethiopia, which it supports through the aid agency CAFOD.
Over just 18 months the parish has consistently collected for CAFOD's Connect2:Ethiopia scheme through regular collections after Mass and through CAFOD's pyramid collection boxes.  Parish priest Canon Pat Sammon also gives a percentage of the first collection towards the cause.
As a Connect2:Ethiopia parish, Our Lady of Lourdes supports CAFOD's partner in Sebeya, Adigrat Diocese Catholic Secretariat (ADCS).  Sebeya, located in the very north of Ethiopia, is dry and arid.  Harvests have been severely impacted by the changing climate and the area has suffered greatly from the current drought – the worst Ethiopia has experienced in decades.
Through Connect2, the parish has been able to support the community and empower local people to build reservoirs and water pipes to keep the fields green and improve the harvests.  It was this emphasis on water and sustainability that particularly attracted the parish to Ethiopia.  The communities also speak three times a year and the parish receives regular updates on how the community in Sebeya and their project are progressing.
CAFOD representative, Pat Pugh, said: "The parish is really very generous.  We've raised the money from faithful people putting money in boxes and from some very regular, very kind donations."
Abba Solomon, Sebeya's parish priest, said of the support from Our Lady of Lourdes and other communities in the UK: "Your generosity is positively changing the lives of the people in my community."
CAFOD representative in Brentwood, Chris Driscoll, said: "We are very grateful for the continued dedication of parishioners at Our Lady of Lourdes in supporting the community of Sebeya and previously that of Puentecitos, El Salvador, for whom they raised £80,000 over five years.  They are incredibly generous and I'd like to thank all of the parishioners and Fr Pat for their support of those in need."
For groups who would like to find out more about CAFOD's scheme, please visit http://cafod.org.uk/Connect2