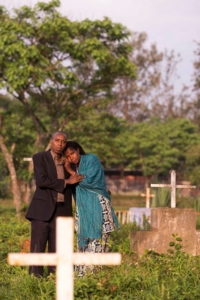 Healing the Broken-Hearted
It's been over 20 years since the genocide that devastated Rwanda. And while the saying 'time heals all wounds' may ring true, many people across this small African nation are still in need of practical, spiritual and emotional support.
Following years of ethnic tension, a series of mass killings violently broke out in Rwanda in April 1994. In one hundred days approximately one million people – 20% of the population – were brutally tortured and killed in one of the worst genocides the world has ever seen.
Fr Emmanuel Nsengiyumva was just 18 years old when the systematic slaughter began. He was mid-way through his seminary studies when the genocide took place.
During the genocide, Fr Emmanuel lost two of his brothers and knows well the deep emotional wounds of his people: 'Your relatives, your mother, your father, your brothers, is not only killed but they torture him in front of you. Some of them would die in two days… two days of agony.'
With the support of Missio, the Pope's official charity for overseas mission, Fr Emmanuel has dedicated his life to reaching out to his fellow Rwandans. His desire for his people is that through forgiveness their broken hearts may be healed.
Fr Anthony Chantry, National Director of Missio in England and Wales, says 'There are some wounds so deep in human experience that they require the healing touch of God's love. The Church with its vital ministry of caring for victims of senseless and appalling violence allows God's grace to heal those whose lives are broken.'
Two of the many Rwandans that are working through their pain are Edouard and Immaculée, who have been married for 23 years (pictured above). During the genocide, they hid in the mountains. Knowing that the Church had served as a safe haven for people during previous conflicts, Immaculée and Edouard's families thought they would be protected from the violence by sheltering in their local Catholic Church in Nyamata.
Devastatingly over the next week, more than ten thousand people – including Edouard and Immaculée's parents, as well as fifteen brothers and sisters between them – were brutally killed in and around that church.
Both carry deep wounds and struggle with the trauma of their past. Edouard recalls: 'Just after the genocide we visited the church and tried to find our relatives, but it was impossible because there were just so many dead bodies.'
After the genocide, many perpetrators were brought to trial and imprisoned. Having served their time, many of these prisoners are now returning to the neighbourhoods they brutalised. Many priests, sisters and brothers in Rwanda are supporting these communities through counselling and healing workshops, which focus on forgiveness and mercy. Edouard explains, 'The church has helped us to be strong, the priests have tried to bring our community together.'
Fr Emmanuel is supporting those whose lives have been shattered look to the future with hope. His work is supported by Missio, which works to answer the call to love God and to love our neighbour by bringing the hope of the Gospel where there is turmoil, poverty and uncertainty in the world.
 World Mission Sunday
World Mission Sunday is coordinated by Missio, the Pope's official charity for overseas mission.
The World Mission Sunday collection is one of just three personally requested by the Pope each year.
World Mission Sunday takes place annually on the penultimate Sunday in October.
Missio Worldwide supports every mission diocese overseas (1,069) until they are self-sufficient.
Missio exists because 40% of the Catholic Church cannot support itself. These are mainly churches in Africa and Asia where parishioners do not earn enough money to support their parish priest and his outreach projects.
To provide for the different needs of the overseas Church, Missio focuses on four main areas of provision:
o   The building of Church infrastructure and support of faith communities
o   The training of local priests and sisters
o   Children's projects (faith, health and education)
o   The promotion of world mission through prayer and study
Offerings from Catholics in England and Wales on World Mission Sunday are combined with donations to the Association for the Propagation of the Faith (APF) in all countries where the Church is present and distributed to 1,069 mission dioceses worldwide.
In 2015 the World Mission Sunday collection in parishes across England and Wales raised £533,397 for Missio's work.