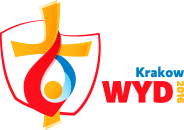 Ninety young people from across the Diocese have travelled this weekend to Krakow, Poland for World Youth Day 2016 with Pope Francis, who will arrive later in the week. They made an arduous journey across five countries by coach, accompanied by Bishop Alan, Fr Dominic Howarth and others.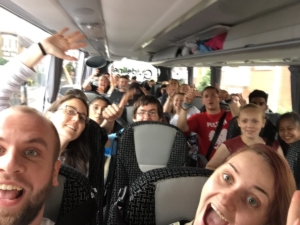 Said Bishop Alan: "Please pray for the 90 young people who are travelling to World Youth Day in Krakow, Poland, for an encounter with more than 1.5 million young people and Pope Francis. Our group represents many parishes and schools in the Diocese. I am delighted to be making the journey with them, and will keep the people of the Diocese in prayer throughout the pilgrimage. We are away from 22nd July to 2nd August."
In the run up to World Youth Day, the Pope invited young people, up to two million of whom are expected to attend from across the globe, to choose a corporal and spiritual work of mercy to practise each month for the first seven months of 2016.
The seven corporal works of mercy are to feed the hungry; give drink to the thirsty; clothe the naked; welcome the stranger; assist the sick; visit the imprisoned and bury the dead.  The seven spiritual works of mercy are to counsel the doubtful; teach the ignorant; admonish sinners; comfort the sorrowful; forgive offences; patiently bear with troublesome people and pray to God for the living and the dead.   Read more about the Pope's message here.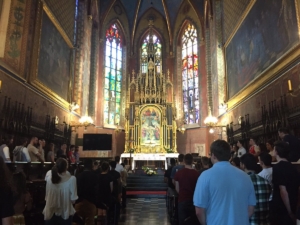 The Brentwood young people attended their first group Mass in Krakow after their safe arrival in a Franciscan church (left).
The homepage of the Vatican website (www.vatican.va) will be regularly updated with Pope Francis' messages and homilies. You can follow the experiences of the Brentwood youth representatives on twitter using the hashtag #BrentWYD and view updates on our WYD page and on the BCYS Facebook page.