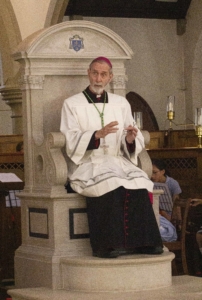 At a joyful celebration in Brentwood Cathedral on 7 July, Bishop Alan Williams presented awards to young people nominated by their schools for their acts of outstanding citizenship.
Bishop Alan said he was delighted to be present: "As we heard in our reading today, our faith is all about loving God and our neighbour. The best proof of that was Jesus himself. Everything he did was about this. Today we are seeing the word of God in action. We are here to be amazed by the saintliness of young people at school. Pope Francis said look for the saint in the person next door to you, your neighbour. There are lots of them in this room. Thank you to all for what you have done for the benefit of others – and the many acts which are only seen by God."
Testimonies from schools evidenced the many selfless acts the young people present had carried out – from using their own bereavement to support others in similar situations, to responding to their own traumas, to caring for sick or challenged siblings and parents, to fundraising for charities.
Isla at St Teresa's, Dagenham, for example, channelled her own grief at the loss of her mother into the creation of a memorial garden at school and has used it to support other bereaved children. Robson from Saint John Payne in Chelmsford also provided bereavement support to others.
Gabrielle and Grace at Brentwood Ursuline, meanwhile, have been the Year 8 road safety ambassadors since September 2022 and lead on the tasks set by the Essex Safer Roads partnership by creating campaigns, posters and banners to promote road safety.
Arabella received the award on behalf of the New Hall School Chaplaincy Sixth Form Prefects for their support of Confirmation candidates while Rebekah from St Mark's, Harlow has been part of St John Ambulance for five years and volunteered in a Tanzanian primary school last summer, teaching Maths, English & Science.
Many young people raised money for charities. Emily at Sacred Heart of Mary School in Upminster was cited for her passionate fundraising for Barnardo's while Siddhanth at St Mary's, Hare Park in Gidea Park raised over £1,100 for those in need, sacrificing his birthday presents in exchange for donations to a charity fund of his choice. At the Bishops' Primary in Springfield Ivy and Poppy made bookmarks to raise money for Farleigh Hospice, after the loss of their grandfather. Max at De La Salle, Basildon climbed Ben Nevis and with others raised £2,563 for the Royal London Hospital for Cancer Care and a dementia charity.
Several schools nominated refugees from Ukraine and Afghanistan who have overcome great difficulties: Marharyta and Veronika at St Francis, Maldon, Stepan and Yustina from Ss Peter and Paul in Ilford, Misha from Our Lady of Lourdes in Leigh-on-Sea and Ehsan from St Bonaventure's in Forest Gate gained plaudits for their resilience and dedication in embracing their new lives in UK schools.
At St Angela's School in Forest Gate, Avital, Nia, Leona and Eden have all been active members of the school's Youth SVP group since its formation, working to promote the Catholic Social Teaching of the preferential option for the poor. Meanwhile, Chinedum embodies Holy Family, Walthamstow's ethos inspired by St Oscar Romero: 'aspire not to have more but to be more'. Entirely on her own initiative, Chinedum introduced the role of student wellbeing champions, showing a deep-rooted concern for others, attending meetings and participating in the Wellbeing for Schools panel.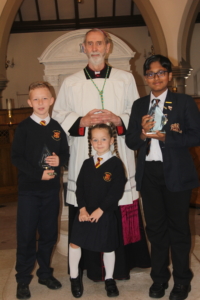 The Awards were initiated in 2002 as a way to respond to government requirements re the inclusion of citizenship in the curriculum. They were inspired by Professor Lord David Alton, an MP for many years and now a cross-bench peer in the House of Lords.  An alumnus of  St Helen's, Brentwood and the Campion School, Hornchurch, he was Professor of Citizenship, Liverpool John Moores University from 1997 to 2016. Lord Alton presented those first awards to the children and young people nominated. While just 11 schools took part in 2002, thanks particularly to Sr Jude Groden, the event has grown and developed. This year more than 50 schools participated.
Photos from 2023 Citizenship Awards
BBC Essex interview with Saint John Payne headteacher Tom Coen