Music was provided by a range of musicians, from the community and music group, One Hope Project, Jasmine Elcock (Ant and Dec's 'golden buzzer act' on Britain's Got Talent 2016) and double Grammy award-winning Matt Redman. The theme itself was taken from Matt Redman's song of the same name.
Cardinal Vincent Nichols delivered a message from His Holiness, Pope Francis, who hoped that Flame 2017 would "foster a greater zeal" to "blaze trails that open up new horizons capable of spreading joy". Cardinal Charles Bo of Myanmar (Burma) explained the political and religious situation in the country, as well as inspiring the young people present to be courageous in making a difference in their own societies and beyond. The highlight of Cardinal Bo's speech was the interactive use of the poem It depends on whose hands it's in. The delegates also heard from a range of speakers on topics from refugee care to environmental issues from Sarah Teather of the Jesuit Refugee Service and Fr Augusto Zampini Davies of CAFOD, respectively.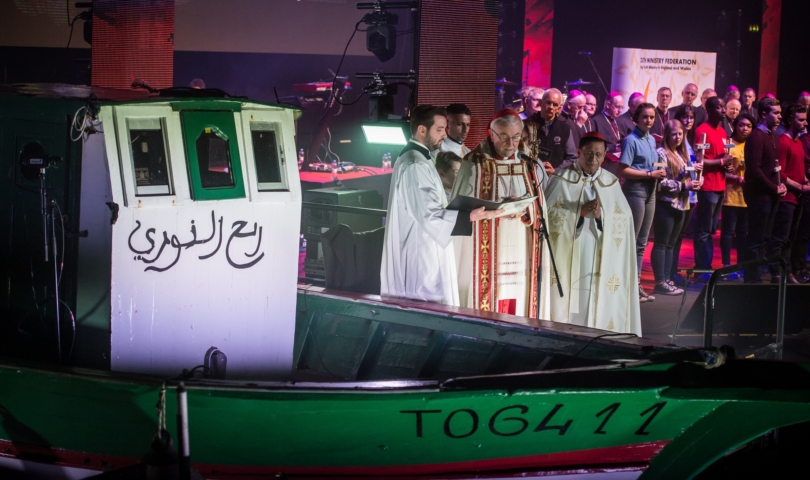 Solidarity with and welcoming refugees was a key theme in many elements of the event. This was emphasised by the presence of a 30 foot boat that carried 37 people, from North Africa to Lampedusa, fleeing violence and war,. During the afternoon Liturgy, Cardinal Nichols offered prayers for the estimated 10,000 refugees that have drowned whilst attempting to cross the Mediterranean Sea. He then blessed Boat TO6411 (above) as "a symbol of hope for people in despair … a symbol of new beginnings … a symbol of safety and a symbol of all our journeys, as one family, united in God's love". This boat blessing was followed by a Liturgy of readings, prayers and adoration of Christ in the Blessed Eucharist.
All present were encouraged to use Twitter, Instagram and all social media to express their thoughts, emotions and images of the event. Hexham and Newcastle Youth Ministry team tweeted '10,000 hearts touched. The Church is alive and we are part of it', and Brentwood Catholic Youth Service (some of whom are pictured below welcoming the young people) wrote, "We are hopeful because we have been inspired today by great speakers". To find more reflections and photographs, find #Flame2017 on Twitter.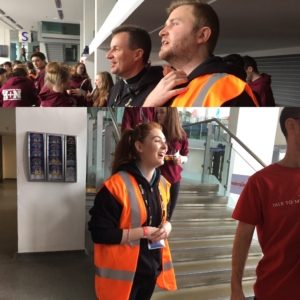 Four young leaders from Brentwood Diocese, who are volunteering with aid agency CAFOD, attended the event and ran lunchtime workshops around the themes of refugees and climate change.
During the event, CAFOD hoped to collect 10,000 messages of hope to send to refugees around the world. This is part of a larger campaign by the charity, who have so far received over 25,000 messages from communities across England and Wales.
CAFOD youth volunteers, Leah Fox, 19, and Ryan Wilkinson, 18, spoke on the day about their experiences of meeting refugees in Lebanon, in hopes of inspiring the young people to act.
"I was so excited to speak at Wembley," said Ryan, who is currently volunteering at Savio House, the Salesian retreat centre in Sheffield. "From my own personal experience, sharing messages of hope makes a massive difference and shows refugees that they are not alone."
"During these turbulent times, it was great that so many young people came together for one cause," added Leah, who is currently training to be a primary school teacher. "I hope that by sharing my story, I encouraged young people to take further action in solidarity with refugees."
Official photographs can be found here: flickr.com