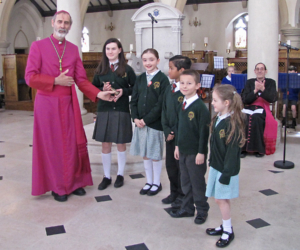 Last week young Catholics from across the diocese came together for the annual Citizenship Awards ceremony at Brentwood Cathedral. Nominated by their schools for their selfless service of others, these young citizens received their award from Bishop Alan Williams.
The event has been running since 2002, when it was inaugurated by Lord Alton, a former pupil of the diocese and Professor of Citizenship at Liverpool John Moore University. It has been supported by Brentwood Religious Education Service as a way of responding to the Government's requirements on citizenship.
BRES advisor Sr Jude Groden, who orchestrates the event, said: "The event has gone from strength to strength: 11 schools took part in the first year; this year 69 schools participated, nominating individuals and groups for the accolade."
And the good deeds cited ranged from fundraising for charities, to dealing with family bereavements and illness, to more spiritual work as servers and liturgists. Nine-year-old Grace Coster, from St Joseph's Primary, Upminster, for example, was nominated for her care of her younger sister Olivia, who has Rett Syndrome, as well as her fundraising efforts for the charity Rett UK.
Nicholas Muyimba, 18, from All Saints' Catholic Technology College Dagenham, spends every Thursday and Friday evening after school working with children with special needs as a swimming coach at Barking and Dagenham Leisure Centre. "He receives the award on behalf of a small group of volunteers from All Saints School who give up their time so generously," said the school.
And from St Peter's Primary in Billericay, Maddy Wallace and Jack O'Keeffe received the award on behalf of the ECO Committee, who helped raise £1,900 for the Wateraid charity which supports people in developing countries.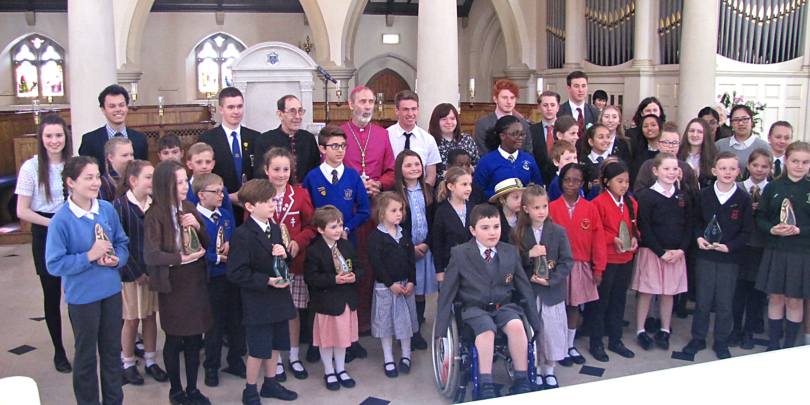 During the summer of 2015 Shauna Murnane, Dominique Bradford and Katie Dellipiani, from Ursuline Convent High School Brentwood, funded their own travel arrangements to work on an Ursuline Links volunteer project in the USA. They built and renovated shelters and homes for underprivileged people in the less economically developed areas of New Orleans who were still suffering from the aftermath of Hurricane Katrina.
Lauren Marr and Melissa Adedeji, both 16, were instrumental in organising the traditional Year 11 sleepover and the Bin Bag Fashion Show at Grays Convent High School. They raised an impressive £1,446 for CAFOD.
And at St Thomas More High School, Westcliff-On-Sea, William Parker, Harry Willsmore and Joe Lowdrey received the award for their preparation, leadership and presentation of a Citizenship Campaign designed to raise awareness about disability.
Laura Barritt was nominated by Trinity High School at Woodford Green as a "superb" school ambassador who acts as guide, mentor and friends to younger students as well as raising a great deal of money for worthy causes. Laura also makes a significant contribution via her work with the elderly, said the school. Thomas Bever shared the award as "an exceptionally committed and enthusiastic member of the school Young Franciscan group and Chapel Committee, enthusing younger students and producing liturgical resources and materials to benefit the entire school community".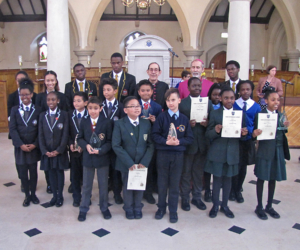 Meanwhile teenagers Charles Hamadi, Kyron Onireti, Gabriel Adegoke and Tyrese Attefuah-Appau, who attend St Bonaventure's School, Forest Gate, had an extremely newsworthy example of good citizenship to share: they helped an elderly lady who had become unconscious after a fall on an icy pavement and was being ignored by passers-by. The lady was so impressed with the boys' care in keeping her warm and calling an ambulance that she contacted the local radio station, LBC, to tell the story. The story went viral and was published in newspapers as far away as Nigeria.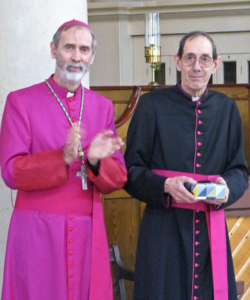 What all the stories related at the Awards event have in common, though, is the idea that we must 'love our neighbour as ourselves'. "That," says Sr Jude, "is at the heart of the Christian interpretation of citizenship."
During the ceremony tribute was paid to outgoing Diocesan Director of Education, Mgr George Stokes, who is retiring after many years in the role. Bishop Alan thanked him for his tireless work for the Diocese and presented him with a gift as a token of appreciation.