BCYS Summer Lourdes Pilgrimage, 23 July – 30 July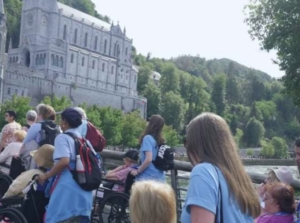 Travel alongside the main Diocesan pilgrimage to assist the elderly and infirm, as well as joining them for social time, retreat, reconciliation, the baths, a trip to the stunning mountain town of Gavarnie, social nights and party as well as experiencing the Lourdes Torchlight Procession and Blessed Sacrament Procession. Open to all those in school year 10 and above. For all information and to apply, visit our website www.bcys.net/events/sl23 – Applications open until the end of January!
BCYS Youth Mass with Caritas Diocese of Brentwood, Thursday 2 February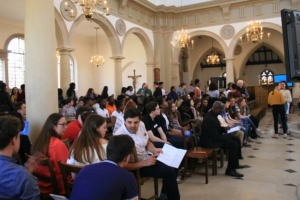 Join us in the Brentwood Cathedral Parish Hall from 6pm for pizza, refreshments and a chance to hear from guest speakers from Caritas and the SVP, helping us to think about charitable giving as we begin to prepare for the season of Lent.
Youth Mass is in the Cathedral at 7:30pm, and will be celebrated by Fr Dan Kelly. Everyone is welcome! See www.bcys.net or email [email protected] for more information.
CYMFed Flame, Saturday 4 March at OVO Arena, Wembley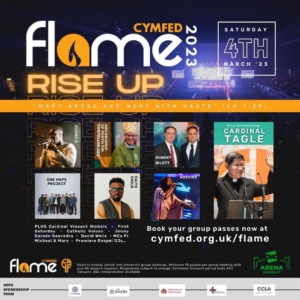 With incredible speakers Cardinal Tagle, Salesian Archbishop of Melbourne, Tim Costelloe, SDB, Robert Billot, an American lawyer who is the main character in the film Dark Waters, Jenny Garzón Saavedra, a young advocate from the Amazon rainforest and David Wells, musicians, including MOBO and Urban Music Award winner Guvna B, rising star Faith Child, Catholic band One Hope Project and soloist Adenike – a Finalist on The Voice, as well as Brenden Thompson and Georgia Clarke from Catholic Voices introducing Adoration, led by Cardinal Vincent Nichols, this promises to be an incredible and inspiring day for young people! Passes cost just £24/person if you book before 31 January, and the BCYS has a limited number left so please email [email protected] to reserve yours! All information at www.bcys.net/events