The twinning of Brentwood with Dundee was forged around 1985 when Michael Rowland became Bishop of the newly formed Diocese of Dundee.
Bishop Michael was born and brought up in Grays, Essex. He became a Franciscan priest and  spent much of his working life in South Africa.
He came to visit Bishop Thomas when he was newly ordained a bishop and they forged the twinning at that time. The twinning was originally envisaged to be one of spiritual support and friendship but over the years it has taken on many different forms, including the twinning of parishes, schools etc.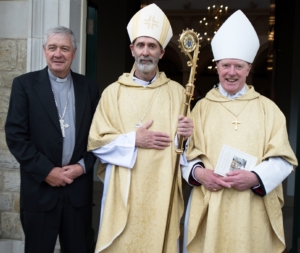 The Holy Father appointed Fr Graham Rose (seen here at Bishop Alan's Episcopal Ordination) to succeed Bishop Michael Rowland as Bishop of Dundee. He is a South African, born in Evander, which is in the Diocese of Dundee, and was ordained a priest in the Diocese of Johannesburg, where he was involved in setting up the Catholic University. His Episcopal Ordination took place on 30 August 2008 in Newcastle within Dundee Diocese.
Priests and deacons have been exchanged between the two dioceses for some time. Fr Gerald Gostling, (below) a Brentwood priest, is presently working in the Diocese of Dundee at M-CARE, which "establishes, encourages and supports projects that help and care for orphans and vulnerable children within the Diocese of Dundee". Fr Gerald has been in Africa for many years but visits the UK from time to time and updates well-wishers within the diocese about developments in his work.
Two parishes in Brentwood Diocese are also supporting students studying for the priesthood in South Africa.