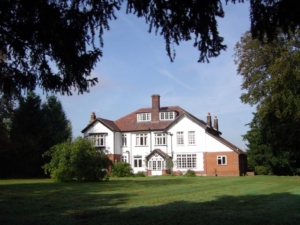 Abbotswick has been established as a House of Prayer in the Diocese of Brentwood for nearly 30 years. The Community of Our Lady of Walsingham provides hospitality to people of all denominations seeking day or residential retreats. Abbotswick is situated within 14 acres of beautiful and tranquil surroundings set in a semi-rural location just five miles from Brentwood. There are eight comfortable bedrooms available ensuring that both residential groups and individual retreats can be accommodated. Guided retreats are available throughout the year: please see the website for more details.
There are three rooms available for private hire: a conference room and an annexe, both of which can accommodate up to 50 guests, and a smaller meeting room that would be more suitable for up to five guests. All catering and audio-visual requirements are arranged in advance.
There is a small chapel for personal prayer and the house and grounds offer ample space to relax and reflect and also the opportunity to discover inspirational places to pray. Abbotswick is open to all who seek spiritual renewal, guidance, healing or just a place to be.
Exposition of the Blessed Sacrament is available on Thursdays between 11am and 4.30pm. Visitors are welcome to join the Community of Our Lady of Walsingham daily in the chapel for prayers. Please visit our website for more details.