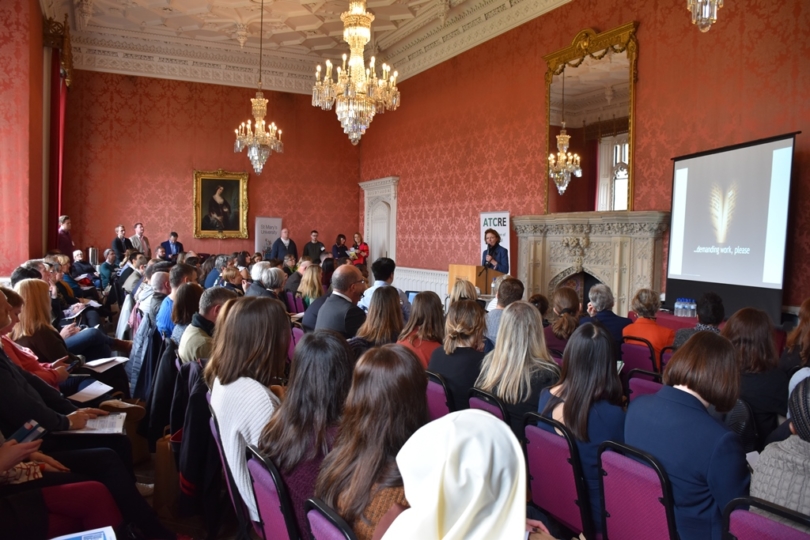 Over 150 people packed in the Waldegrave Dining Room at St Mary's University for the first Association of Teachers of Catholic RE national conference last week. It was standing room only as Catholic RE teachers joined Diocesan representatives, Catholic Education Service staff, Catholic university lecturers and clergy to celebrate Catholic education in England and Wales.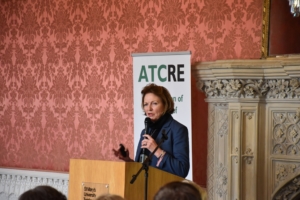 Mary Myatt (left), a St Mary's-trained teacher and now education consultant and author, delivered a keynote that challenged the Catholic community to ensure that students get what they are entitled to, a curriculum that is rigorous and challenging, that is authentic and rooted in academic discipline.
Michael Merrick, Executive Headteacher of St Ninian Federation, Carlisle, delivered a passionate call for a genuinely Catholic curriculum – one where RE is not just the responsibility of the RE teacher but of the whole school community. "Art, Music, History and English should also be teaching Catholic RE!" he said.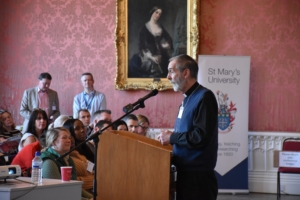 ATCRE's Episcopal Liaison, Bishop Alan Williams sm (left) of Brentwood Diocese, delivered a keynote that drew on the writings of Pope Francis and his own experiences as a teacher. He reflected on the deployment of models and images to make the complex accessible and to give context to the individual. In particular, Bishop Alan called upon teachers and the Church to act as a welcoming mother to the young of the world today who face the challenges of the modern world. Mothers, he said, are called to accompany their children through life because without mothers there would be no growth. He challenged teachers to remain neither young nor old in their care of the young in order to guide with both wisdom and energy.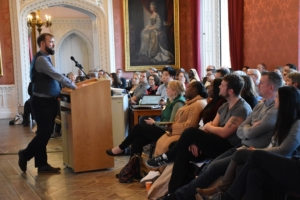 During the rest of the day there were a diverse range of sessions delivered on a variety of topics applicable and useful to RE teachers. The day closed with a keynote from Philip Robinson (right), of the Catholic Education Service, who shared the current plans for the new Curriculum Directory. ATCRE will be leading the teacher consultations on this new document.
ATCRE Chair, Matthew Dell, reflecting after the conference, said: "I was delighted that the hard work of the executive team paid off. We delivered a varied and stimulating day to nourish RE teachers.  For the first national conference it showed that we can easily overcome a silo mentality of school and diocese, and in the spirit of cooperation, share as a family of Catholic educators."
Julia Cunnigham, a vice-chair, commented: "The whole ATCRE Executive are delighted about the conference. It has exceeded even our highest hopes and expectations. It has confirmed our conviction that there is a real need for an RE subject association specifically for those who teach it in Catholic schools."
Attendees were impressed by the conference. Emma Westbury, a Head of RE at Nicholas Breakspear School, said: "It was brilliant. I've been to many RE conferences but this one was different. It spoke to the core of my school and department context. It challenged me. It inspired me. It encouraged me. It rekindled hope. It reminded me of my 'Why'. I'm excited for next year already!"
The next ATCRE conference will be held at Liverpool Hope University on Saturday 6 March 2021. Membership is free via the association website: www.atcre.co.uk