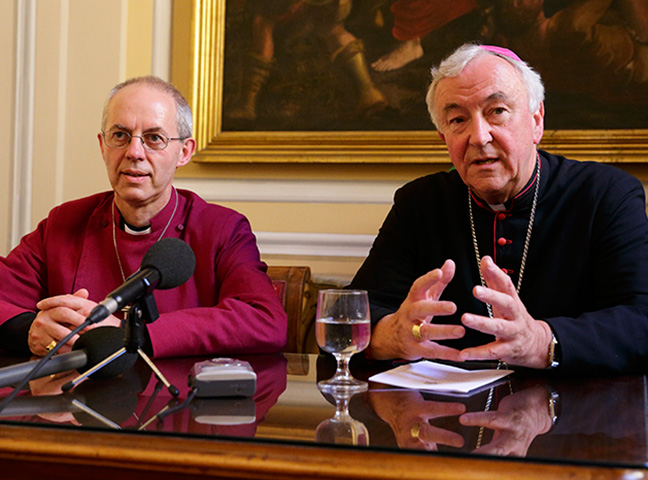 Cardinal Vincent Nichols, Archbishop of Westminster, and Archbishop Justin Welby, Archbishop of Canterbury, today called on Government to protect Christians facing persecution and to promote freedom of religion and belief more widely.
In a joint Catholic and Church of England response to the Government-commissioned independent review of Foreign and Commonwealth Office support for persecuted Christians, the two Church leaders argued that Government should promote freedom of religion and belief as a fundamental human right. They also called on Government to take a joined-up approach to Freedom of Religion and Belief in foreign, aid, security, trade, resettlement and asylum policy, rather than treating it as an isolated diplomatic activity.
The independent review was launched by Foreign Secretary Jeremy Hunt earlier this year and is being led by Bishop Philip Mountstephen, Bishop of Truro.
Cardinal Nichols and Archbishop Welby said in a joint letter to accompany the submission:
"Christians form an important part of the social fabric in almost every country of the world. Yet in many places, our Christian sisters and brothers face persecution of an intensity and extent unprecedented in many centuries.
"This Submission is shaped by their voices and by our commitment to make them heard.
"We must remember, too, that these threats to freedom of religion or belief are not restricted to Christians alone. Rather, it is a widespread experience of the followers of other faiths. Many are deprived of this basic expression of their human dignity. Similar threats are also faced by atheists and agnostics who seek to uphold crucial decisions of conscience.
"We ask Her Majesty's Government to take note of the practical recommendations offered by our Churches in this Submission and to take meaningful action not only in protecting Christians facing persecution but also in promoting freedom of religion and belief more widely."
The call was echoed by Archbishop Bashar Warda, Chaldean Catholic Archbishop of Erbil, Kurdistan Iraq, where Christians were chased from their homes in 2014 as ISIS took hold in Northern Iraq.
Archbishop Warda said: "The UK government has taken the first courageous step to have the global review into Christian persecution. The next courageous step is to come and listen to those who suffer and witness the persecution, the destruction, the displacement and the frightening figures of persecuted flight. The Church in England & Wales is a great support to us here in Iraq since the coming of ISIS in 2014. Cardinal Nichols made a great impact when he came here in 2015 to see and experience our situation at first hand."
Nigeria has also seen significant violence and persecution against people on account of their religious belief.
Archbishop Augustine Akubeze, Archbishop of Benin City in Nigeria said:
"Against the backdrop of the violence and bloodshed that characterized the last elections, we are pained that the culture of death is becoming embedded into our daily lives. This persistent devaluation of human life and property poses an existential threat to our personal survival and that of our nation. How can government continue to appear helpless in the face of such shameful tragedy? We strongly appeal to the President, in collaboration with the Governors of Kaduna State and other affected States to seriously take steps to arrest this drift before total anarchy and mayhem consume the entire nation."
Read the full submission: Catholic Bishops' Conference and Church of England submission to Government on persecution of Christians
Read the covering letter: Letter from Cardinal and Archbishop Welby