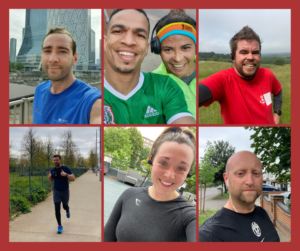 Seven members of the Newham Deanery are running the London Landmarks Half Marathon on 1 August 2021 for homelessness charity Caritas Anchor House – and need your support.
Caritas Anchor House provides accommodation and support to single homeless adults in the London Borough of Newham. The award-winning charity's driving mission is to ensure that those who walk through their doors grow in confidence and move towards leading independent, self-fulfilling lives by providing education, guidance and personal rehabilitation.
Andy Lewis, Deputy Headteacher at St Bonaventure's in Forest Gate, is one of the seven-strong team. He says:  "I have worked with Caritas Anchor House for many years via TELCO / Newham Citizens. Sadly, I see the impact that housing issues have on the families at our school and wider community and so want to make sure we do everything we can to tackle the problem. A staggering 1 in 23 people in Newham is homeless. I haven't run a half marathon race in a few years, and I will be aiming for a new personal best in this one! I'm already training hard."
The other members of the team are Jose Daniel, James Mackay, Paul Balson, Andrea Thompson, Alexis Wilson and Beth Fennell.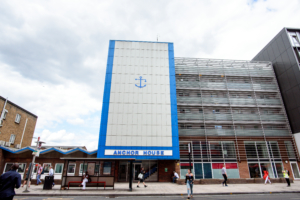 Lauren Sabin,  Community and Events Officer at Caritas Anchor House, says: "After an incredibly difficult year of events fundraising, we are thrilled to have seven people taking part in the London Landmarks Half Marathon, to raise funds for us. We are incredibly grateful for the support of our Newham Deanery Team, whose fundraising will make a real difference to those experiencing homelessness in Newham.
"As a charity for single homeless adults, we do so much more than put a roof over people's heads. Our services address health and wellbeing, financial management, back-to-work preparation and support to achieve independent living. Last year we provided 278 people with a home and support, of whom 49 secured/sustained employment, and 137 moved on to independent living.
"There has never been a more important time to take action to tackle homelessness. With the eviction ban having ended and the furlough scheme drawing to a close, we are anticipating a huge surge in homelessness this summer.  Thanks to Andy, James, Paul, Jose, Andrea, Alexis and Beth, we will be able to build hope and enable lasting change for more people in our community. Nobody should become homeless, but we are passionate that those who do should receive the support and care they need, to ensure they never face it again."
To find out more and sponsor the Newham Seven, go to https://www.justgiving.com/fundraising/llhm-cah-2021