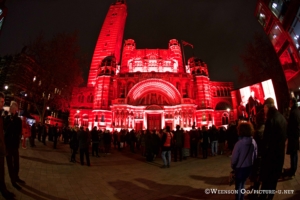 #RedWednesday will take place on 27 November 2019. Organised by Aid to the Church in Need, it is an annual event intended to highlight ongoing Christian persecution around the world and reject religious intolerance.  ACN writes: "#Red Wednesday is the time for people of all faiths, and no faith, to come together in solidarity for Christians and others who are oppressed, forced from their homes, rejected from education and jobs and very often killed just because of their religion."
This year's #RedWednesday event in London will start with a candlelit Cross procession of solidarity from Nelson Mandela's statue on Parliament Square to Westminster Cathedral where the main event will take place. A drinks reception in Cathedral Hall will end the evening. Those attending are asked to arrive at Parliament Square by 6pm. Those going straight to the cathedral should arrive by 6.30pm.
Guest speakers at the liturgy include: Rehman Chishti, Prime Minister's Special Envoy for Freedom of Religion or Belief and Edwin Shuker, Vice President of the Board of Deputies of British Jews, who will speak on his own experience of religious persecution in Iraq as a child.
ACN says: "This is our chance to be visible as Christians, make a stand for religious freedom and represent suffering communities in Syria, Nigeria, Iraq and further afield. Parishes, schools and groups are welcome: if you have banners please bring them."
Entrance to this event is free and all are warmly invited. To register your interest please email [email protected]. 
Those unable to attend in London can still sign up to be Red Champions on the organisation's website: https://acnuk.org/our-campaigns/and are encouraged to attend a nearer event or even set up their own, wearing something red and lighting a parish or local landmark red. Our own Bishop Alan has asked parishes to consider taking part.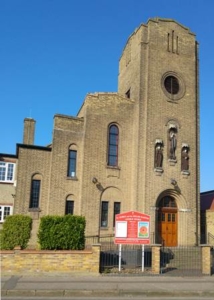 Sixteen cathedrals and more than 30 parishes took part last year across the country, together with The Houses of Parliament, Marble Arch, many secular buildings, schools and universities around the country. In our diocese the parish of St George and the English Martyrs in Shoeburyness, for example, is preparing to light up its church in red this year. Parish priest Fr Brett Adams will say a special Mass at 11.30am. "It is important to raise awareness of Christian persecution around the world," he says. A soup lunch (tomato) will follow the Mass in the church hall.
For information, prayer resources, lighting instructions, to add your event/action to ACN's #Red Wednesday Map and for a free fundraising pack to help displaced Christian families in Syria, Nigeria and over 100 other countries across the world, please visit: https://acnuk.org/ourcampaigns/red-wednesday/.