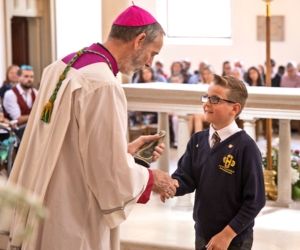 At the end of May young people from 65 primary and secondary schools in the Diocese of Brentwood came together for a heartwarming ceremony at Brentwood Cathedral. The audience heard poignant stories of hardship and health issues overcome and selfless service to others, as young people living out the Gospel message received citizenship awards from Bishop Alan Williams sm.
The awards initiative was inspired by Professor Lord Alton of Liverpool, who presented the first awards in 2002, and strongly supported by the Brentwood Religious Education Service to encourage schools to respond to Government requirements that Citizenship be included in the curriculum. A former pupil of the Diocese, Lord Alton is committed to the idea that to be a good Catholic involves being a good citizen: 'loving our neighbour is at the heart of the Christian interpretation of citizenship'.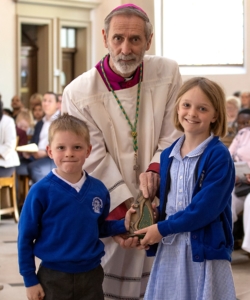 In 2002, just 11 out of the 98 schools in the Diocese took part but the number taking part continues to grow. This year's nominations detailed a range of acts of service: from serving at Mass and involvement in liturgy to fundraising for good causes, to working in foodbanks; from supporting and mentoring younger children to litter picking.
Nine-year-old Olivia Blaney from St Antony's Primary, Woodford Green, for example, used her own birthday money to buy a homeless person a Christmas present. It was only when her church received a letter of thanks that her good deed came to light. Layla Weber, from St Winefride's Primary in Manor Park, and Sophia Peniche from St Joseph the Worker Primary in Hutton both donated hair to the Little Princess Trust after hearing about children losing their hair when suffering from cancer. Sophia managed to raise over £1,000 in donations for her 'big chop'. And Nicole Baptista, at St Ursula's, Romford was cited for giving her savings of £50 to the Poppy Appeal, after hearing how the money would be used.
Andrew Knight was nominated by The Palmer Catholic Academy, Ilford for his membership of Young CAFOD leaders, fundraising and campaigning for the less fortunate. "He also volunteered with other Y12s to mentor younger students and is always ready to help is designated buddy," said the school. Fifteen-year-olds Grace Parker and Eimear Rooney-Tovey were nominated by St John Payne, Chelmsford for their contributions to the spiritual life of their school and parish communities. The school said: "Both are accomplished musicians who use their own time to plan and rehearse music for liturgy, even writing their own compositions."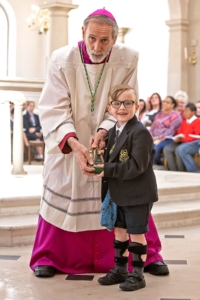 Thomas Cauchi has also used his musical talent for the benefit of others. His school, St Helen's Primary, Westcliff, said: "Thomas recently went to Great Ormond St to play his flute for a 10-year-old friend in the end stages of cancer. He also plays regularly for residents at Nazareth House nursing home."  In a similar way, Emmanuel Sunny from Our Lady and St George Primary, Walthamstow has used his gift for singing to entertain members of the community in hospital and in the church at Christmas. "A valued member of the pupil chaplaincy team and the parish choir, he plays an active part within the Malayalam community in East London," said the school.
St Benedict's College, Colchester nominated Niamh O'Neill for her support to her parents in caring for her sister who has significant special needs. As college MC, she has also been a huge support to the chaplaincy team over the last year.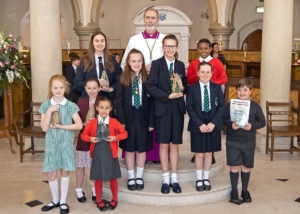 Michelle Omoregie from St Joachim's Primary, Custom House faces enormous health challenges every day, but "remains determined and enthusiastic about life and her education". She works hard to serve others through her role as a friendship prefect and a Mini Vinne and leads fundraising activities, said the school. Elsewhere, Sharlena Landa from St Anne Line Infants, Basildon encouraged her schoolmates to walk to school and parents to park safely through her involvement in the 3PR scheme, while six-year-old Finley Humpoletz was fired up by the message of Pope Francis in Laudato Si.  Finley became increasingly concerned by the amount of litter he observed as he walked to St Francis Primary in Braintree each morning and began to collect rubbish, arriving at school every day with a carrier bag full. The school added: "Since then he has encouraged cousins, Granny and classmates to become involved too. He personifies the message of St Francis of Assisi to care for all creation."
Meanwhile St Luke's Primary, Harlow put forward Keannan Bernardo, chair of the school's Mini Vinnies and a buddy for younger pupils. "He has a strong belief in living out his faith and has also been instrumental in organising fundraising events for our local foodbank and the charity Streets2homes," said the school.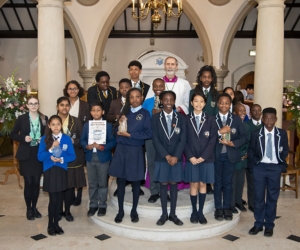 Hayden Beard, 14, was nominated by All Saints Comprehensive Technology College, Dagenham, for similar reasons. Hayden has a chronic condition which is gradually impacting on his sight. Yet, when he learnt of a three-year-old with Type 1 diabetes who needed expensive medical treatment, he organised fundraising events that contributed £4000 towards the cost. "The school was astounded by his selflessness," read the citation.
Meanwhile, three boys from St Bonaventure's in Forest Gate were nominated for a rather different reason. Teenagers David and Joshua Aderele and Andre Bellevue went to the aid of younger pupils who were being threatened by a man with a knife in West Ham Park.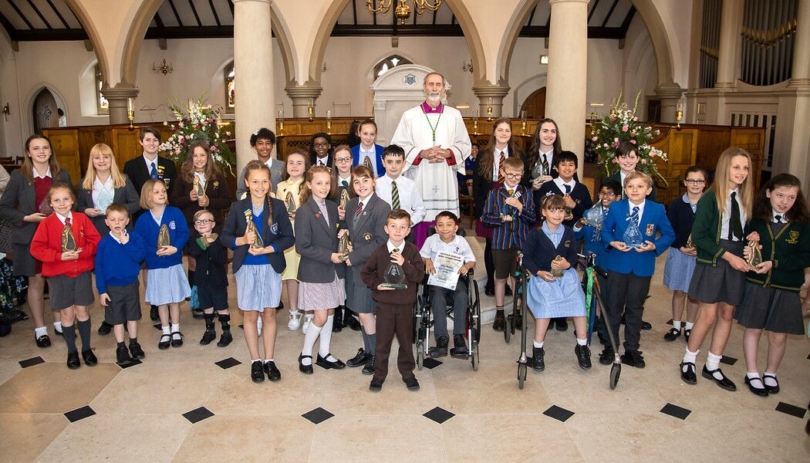 In his homily, Bishop Alan congratulated all the award recipients and encouraged them to continue their good work. He talked of Pope Francis' desire for people to be joyful. "If you believe in Jesus, you can believe in other people and in yourself. With joy in your heart, you love the world and even the difficult people in it," he said. "If you listen to him, Jesus will always give you joy. We have heard remarkable stories about love of God and Jesus shown to others. Through that joy and love you have transformed other people's lives."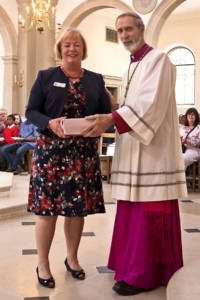 As the ceremony came to a close, MC Paul Halliwell, headteacher of St Bonaventure's School, paid tribute to Paula Barningham (left) who is retiring from her role as headteacher at Our Lady Immaculate Primary, Chelmsford. "We thank Paula for her dedicated, generous and outstanding service to Catholic education in this diocese," he said. Paula served in Sacred Heart Primary, Southend and Saint Patrick's Primary, Collier Row prior to her role at OLI.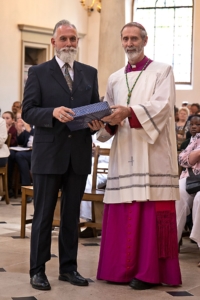 Dr Richard Wilkin, head of the Ursuline Convent High School, Brentwood then took the microphone to thank Paul Halliwell (right with Bishop Alan) for his own service at St Bonaventure's over the last nine years. Paul is returning to his native Liverpool to take up the headship of St Francis Xavier College. "We acknowledge with much gratitude your many endeavours to empower and prepare young people to be inspirational Catholic citizens in serving others," said Dr Wilkin.
Finally, he thanked Bishop Alan for his 'outstanding spiritual leadership'. He added: "You have exemplified in so many ways how close to your heart all our schools are. Through your school visits, you demonstrate clearly the importance you place on the development of young people as positive role models and the encouragement you give to them and to all school staff."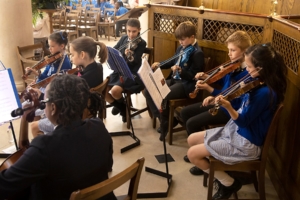 Fr Stephen Myers, Episcopal Vicar for Education in Brentwood Diocese, thanked Fr Martin Boland, Dean of the Cathedral, for his hard work, Paul Halliwell for presenting the candidates and Emma Mann for signing the service. He commended the young musicians from St Helen's Junior School in Brentwood and said the citizenship event is one of his favourite jobs. "I congratulate the outstanding young people here today – thank you for the example you give," he concluded.