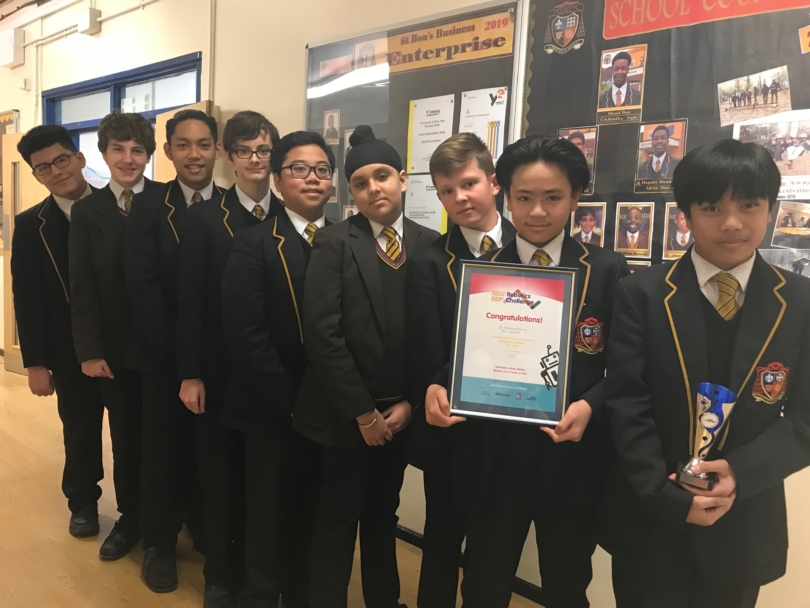 A team of nine young engineers from Years 8 and 9 in St Bonaventure's in Forest Gate travelled to RAF Hendon on February 13 to take part in the London final of the Tomorrow's Engineers EEP Robotics Challenge. Accompanied by teachers Mr Bennett and Ms Logier, the nine boys took part in a day-long competition − and despite stiff opposition from  grammar, independent and other comprehensive schools from across the capital, the St Bon's team triumphed.
The day started out well for St Bon's as they won the Speed Challenge: their robot travelled over four metres in the fastest time – an impressive 1.64 seconds faster than any other team. This was followed by a series of team-building and robot design challenges which went really well, with the schoolboys eloquently explaining how they designed their robot and the challenges they had to overcome.
They then had to give a presentation regarding a humanitarian problem and a technology that could be utilised to solve it. The students decided that drones could be used and explained the reasons for their choice.
Mr Bennet explained: "The most important challenge of the day was the challenge mat where their robot had to complete eight separate tasks in under five minutes. They used a very complex programme to tackle these tasks which seemed to impress the judges. They were delighted to be chosen as the winners. Their victory was very much deserved as they had worked incredibly hard to reach this standard."
St Bon's will now take part in the national final in Birmingham on March 14 and represent London.
Headmaster Mr Halliwell subsequently congratulated all nine members of the team – Jerald, Jhonatan, Ainis, Brendan, Luigi, William, Jaskirat, Josef and Clarence − and presented them with Headteacher commendations. He said: " I am so proud of them and I believe they have what it takes to impress the judges next month in Birmingham."