Meet Peter and Maria Jones and their five children. This Catholic family from Hertfordshire began a YouTube channel called "One of Nine" in November 2020 and continue to produce and upload weekly content.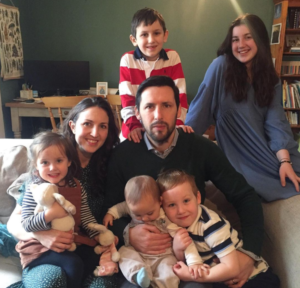 Moved particularly by lockdown in England, the couple decided that creating and posting videos to the social media platform would be a great way to connect Catholic families across the country. "I love people and hearing their stories," says Maria. "I also really appreciate seeing how other families live the Catholic life; our mainstream media is starved of the beauty of this life."
Fortunately, in Peter, the family had a built-in professional filmmaker and photographer. Finding himself without as much work during lockdown, after much prayerful consideration together, the couple decided to create their channel.
Not focussing solely on their own family life, Maria and Peter put a spotlight on other families with their feature, Real Life Mums. The channel is "a window into real Catholic life", says Maria. "The joys and the challenges for our family on the different stages of their journey heavenward. We have five children and two heavenly babies, which makes for a few stories that often peep through. We laugh and we cry and everything in between!"
The Joneses have had an overwhelmingly positive response to their videos. "There has been a great generosity in people in their comments and messages, which we are so grateful for," they say. "We hear of grandparents enjoying the nostalgia, other families appreciating the consolation and the inspiration as we journey through the early years of forming our children in the faith, seminarians and priests appreciating the opportunity to see the people whom they serve, children seeing other families like theirs and many messages from people feeling connection from the Catholic network in this country on a platform that has not been seen before."
We asked the couple where a family might start if they want to live a more authentically Catholic life. "Get to regular mass, confession and build prayer into your day as a priority, perhaps by saying the rosary, even one decade each day to start with. Then find community; people living the Catholic life, in person or online," says Maria.  "Be cautious not to become overwhelmed at first. Take things step by step and by adding things in you will be on your way to building a beautiful, wholesome Catholic life."
"One of Nine", a Catholic family YouTube channel, can be found by following this link.