Brian Fitzgerald, chair of Justice & Peace at St George & the English Martyrs, Shoeburyness, writes:
"We are concerned that so many Christians throughout the world are subjected to injustices – discrimination, violence, oppression, torture and even death – which go largely unnoticed by the world.  So once again on #RedWednesday, organised nationally by ACN, we will be doing something peaceful and positive to highlight this suffering.
The parish church of  St George & The English Martyrs will be illuminated with a red floodlight and the exterior of St Gregory's, our chapel in Thorpe Bay, will also be decorated in red.
Will you wear a red item of clothing on Wednesday 27 November?
And will you go to Mass for someone who can't?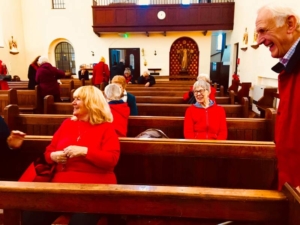 Please join us if you can, dressed in red, at 11.30 Mass at St George's, where we will be joined by the Vicar and parishioners of St Andrew's, our neighbouring Anglican church. Following the Mass, a 'red' lunch of tomato soup will be served in St George's parish hall."
Brian added: "The Senior J&P group would like to express our gratitude for the great generosity of spirit exhibited by the parish at the recent card signing for persecuted Christians. A total of 153 cards, each containing a message of encouragement to someone experiencing harassment or imprisonment because of their faith, are now winging their way across the world to Cuba, Pakistan, Indonesia, Kenya, Nigeria, India, China, Mexico, Vietnam and Bangladesh.
"Your generosity also extended to your donations. We originally hoped to cover the cost of postage but were staggered to realise a total of £537. The surplus will be donated to charities supporting persecuted Christians. "