Aged 18 to 30 and unsure what to do in September? Spend a year with CAFOD making a difference.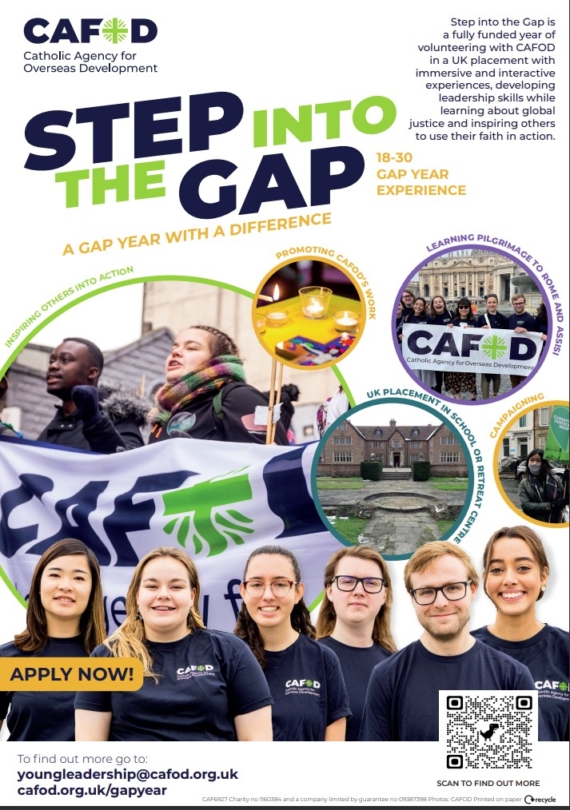 CAFOD's Gap Year programme, Step into the Gap, is a great opportunity for 18 to 30 year olds to gain experience, develop skills and spend a year inspiring others to act for the poor and most marginalised. Based in a UK retreat centre or Catholic secondary school, with accommodation, travel and stipend included, our young leaders are ambassadors for CAFOD and inspire others to put their faith in Action.
Nicole, who has just finished the programme, said "Step into the Gap has changed my life; I have met people that will be with me forever and support me no matter what. My faith has never been stronger, and I feel so blessed to have had this opportunity."
In April Nicole visited Rome and Assisi with the other Gappers, meeting representatives from Caritas Internationalis, the Laudato Si' movement and the Venerable English College. It was an opportunity to find out how the Global Catholic Church has the courage to act justly and walk in solidarity with people in need.
They also went on retreat to Assisi where they were able to find out about St Francis and spend time in prayer and contemplation. At the end of the 10-day trip they attended a Papal audience with Pope Francis, listening to his thoughts and prayers for the world.
On their return they were able to share their experience, along with other CAFOD resources and activities, with many young people in sessions and assemblies.
Find out more information including how to apply for September 2022 at www.cafod.org.uk/gapyear  Open to UK applicants who have the right to live and work in the UK only.
Download the flyer here: Step_into_the_gap_flyer