The eightieth Livesimply award was achieved by St Joseph's Parish in Upminster at the end of November – and the project has been a resounding success, not only in encouraging parishioners to live more simply but also in bringing considerable benefits to their community.
The parish began the Livesimply project in May 2018 with the whole-hearted support of priest Fr John Tuohy. Bernadette Tsocos, chair of the Pastoral Parish Council, is the coordinator of the LiveSimply team. She says: "We considered action to become a parish which not only took care of its own but reached out to the wider community. Parishioners were urged to review their lifestyles and consider what changes they could realistically make to live more simply. Many parishioners were already aware of the encyclical Laudato Si' and we used this as our guide. We also read widely from the words of Pope Francis and looked to role models both in the past and the present. Our weekly quotations in the parish newsletter have been taken from a wide range of cultures, creeds and religions, from the famous and the less so. Bidding prayers on the care of creation are also included at Mass."
The Livesimply campaign was launched at every Mass that same month, with Livesimply team members speaking in church, giving out leaflets and meeting with parishioners. Over the next few weeks parishioners signed up to undertake certain actions under the three Livesimply headings: Living simply, sustainably and in solidarity with the poor.
A Livesimply '100 Ideas' Sheet was distributed and discussed. Pledges were assembled and to date more than 200 have been collected. These were displayed at back of the church – the children's display was based on the 'Tree of Life' and the adults' as a 'Road of Achievement'.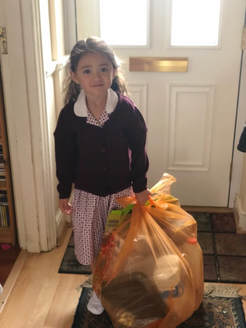 The Livesimply campaign was also launched in the local Catholic primary (St Joseph's) and secondary school (Sacred Heart of Mary) by conducting assemblies, working with classes and forming 'Green Teams' to encourage pupils and their families to live a simpler life in solidarity with those less fortunate and to protect the natural environment. Says Bernadette: "Sixth formers took a survey to every business in Upminster and presented the results at a Sixth Form assembly.   Children painted pebbles with messages about living simply on them and these were displayed in the primary school and in homes."
The parish pledged to support the Thurrock Food Bank every week with food collections, helping in the warehouse and attending charity events which supported it. The Sixth Form 'Green Team' placed a food bank collection bin in the foyer of the school and each week its contents were delivered to the Thurrock Food Bank warehouse. This continued during lockdown. The parish already does a Christmas toy and book collection for foodbanks, Basildon Hospital, hospice shops and refuges, says Bernadette. "Parishioners have been extraordinarily generous and we deliver several car-loads each year."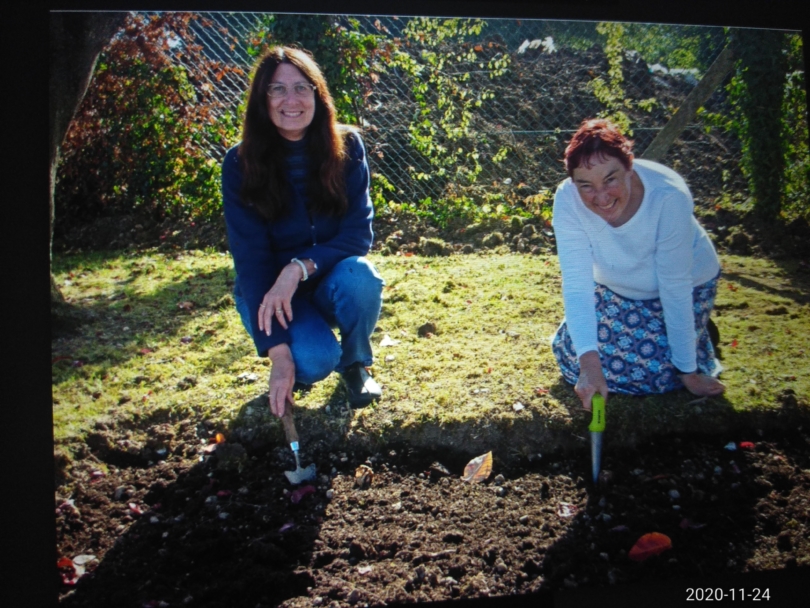 The parish also decided to develop the grounds of its St Peter's Mass centre, as a way of improving the natural environment for wildlife, encouraging young parishioners to connect with nature  and providing a reflective environment for parishioners. "Parishioners donated 800 bulbs for this area, flowers and shrubs, plus birdfeeders and bird food. Children spent a day making bug hotels which were hung on the trees and the Confirmation group leaders donated funds to buy cement and paving slabs to make the flower beds more accessible to wheelchair users," says Bernadette. "We planned a vegetable garden for swop or sell events but Covid-19 has delayed this, unfortunately."
The Confirmation group also created 12 square plots for miniature Stations of the Cross, she says, with the crosses paid for and constructed by a disabled parishioner. "Parishioners, our local supermarket and a large garden centre donated plants and a rockery area was planted up with an olive tree to symbolise peace. Other plants were chosen for their sensory properties with a view to inviting children with visual impairment to come to the garden.  Again, lockdown has made such visits impossible for now."
Another pledge focused on involving isolated and lonely parishioners through prayer. "The St Vincent de Paul and other volunteer groups in the parish, including the Extraordinary Ministers of Communion who take Holy Communion to the sick and housebound, keep us informed of how we can be more inclusive. Every week the parish newsletter advertises activities and events," says Bernadette.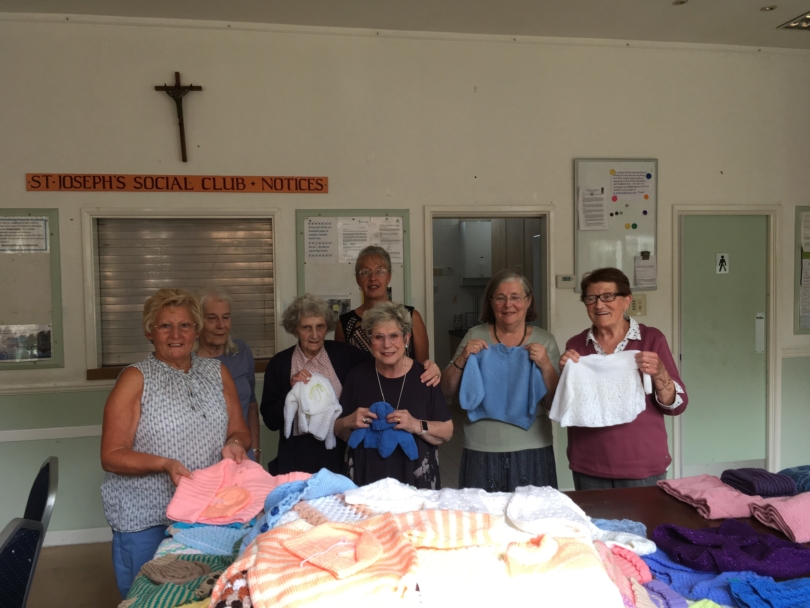 Other practical ideas have also been beneficial. One parishioner began a weekly walking group which has proved very popular and has cemented new friendships. Another began a knitting group to encourage the more isolated parishioners to come together and to give those who are housebound a chance to contribute. Says Bernadette: "This group has been an outstanding success and has knitted and donated a huge number of items to a variety of charities. They also knit for our social events and sell their goods. The social side has been of enormous benefit to some parishioners. The group leader, who has worked so hard to facilitate this group, gives regular updates on goods donated. Even in lockdown, the group has continued its work from home and through the knitting project we have made contact with so many charities we had not previously supported."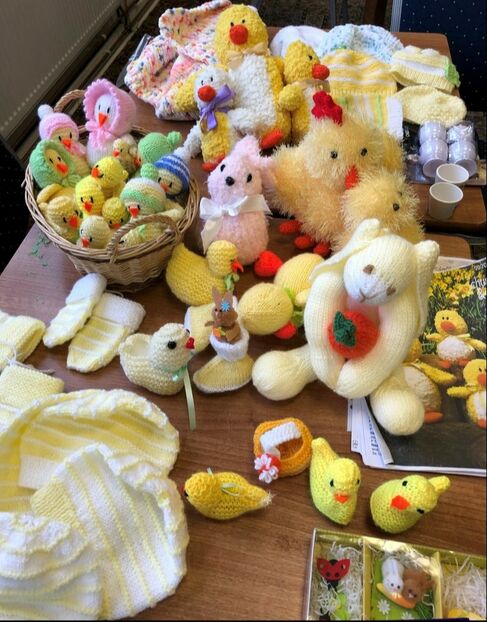 Another parish pledge was to support the homeless and before lockdown the parish held a concert featuring professional and amateur musicians and choirs. The evening was a sell out with 220 tickets sold – the capacity of the hall. Local fish and chip shops provided the food at a substantial discount and the event raised more than £2,000. Says Bernadette: "My son, who is a professional musician, took rehearsals and secured the services of the professionals for free. We donated the funds raised to 'Only A Pavement Away'. My brother, Greg Mangham, who is the CEO and founder of the charity, came to give a talk on its work." The parish will be running this as an annual event once lockdown is lifted, she adds.
Many parishioners took part in CAFOD's 'Share the Journey' walk, also enjoying a series of afternoon teas to celebrate their achievements. "This walk was also a way of encouraging parishioners to walk more and drive less," says Bernadette. "To celebrate our pledge to protect the environment we also asked parishioners to create space for wildlife in their gardens and we had a Creation Service in the church. We are planning to do this again after lockdown. Each week we have a bidding prayer asking for the protection of creation. We also had a pet blessing at our Summer Parish Day in 2019 and a follow up one at the end of that year."
The parish volunteered to run the annual carol service last year at the Forestry Commission site, Thames Chase, basing it on the theme of creation and new birth. The service was presented by primary school children and very well attended. "It was a wonderful way of beginning our Christmas celebrations for 2019 and, as children from our local Catholic school took part, it enhanced community spirit. It was rewarding to see that many people from various denominations came to join us."
The Livesimply assessors had no hesitation in giving Upminster the title of a 'Livesimply Parish' after a detailed review of the project via Zoom. They were very impressed by the parish's sustained efforts and imaginative approach, particularly commending its wide-ranging perspective, its visibility and the commitment to be inclusive of vulnerable and isolated people in the parish with such initiatives as the Knitting Group and SVP outreach.
Parish priest Fr John Tuohy is delighted by the way parishioners have pulled together. He says: "The campaign has brought everyone closer – the schools, the parish and the community. I am very pleased that it has reached out to elderly people and those less able – they feel they haven't been forgotten and can make a contribution, whether it be knitting clothes for the premature babies at Queen's Hospital or helping in the parish garden."
Bernadette agrees: "There is no doubt that participating in this initiative has re-awakened our understanding of the need to be less wasteful, to be more aware of how our lives impact on others, whether it be ensuring the goods that we buy are from sources which protect the rights of workers and are environmentally friendly or our understanding of how our decisions affect others. We expected Livesimply to do much for individuals, but it has done much for a parish too."
Livesimply parishes
Bishop Alan Williams sm is firmly behind the CAFOD Livesimply initiative. He says: "The Livesimply Award is a practical way to respond to the Papal imperative of Laudato Si' at parish level."
St Joseph's, Upminster is just the third parish in our diocese to receive the award, after the Cathedral Parish of St Mary and St Helen and Our Lady of the Rosary and St Patrick, Walthamstow. The Knights of Saint Columba Council 192, Southend-on-Sea have also achieved Livesimply status.
To win the award, a parish must display nine ways in which it is putting into practice the three principles of Livesimply: living in solidarity with people in poverty; living simply; and living sustainably with creation. Receipt of the award is national recognition to Catholic parishes that they are making a difference to their community – and the world.