The day Essex went into Tier 4 was a momentous one for Rob Stanley and Nuala Gallagher. Within four hours of the announcement the couple were being married in a late-night, whirlwind wedding at All Saints, Basildon.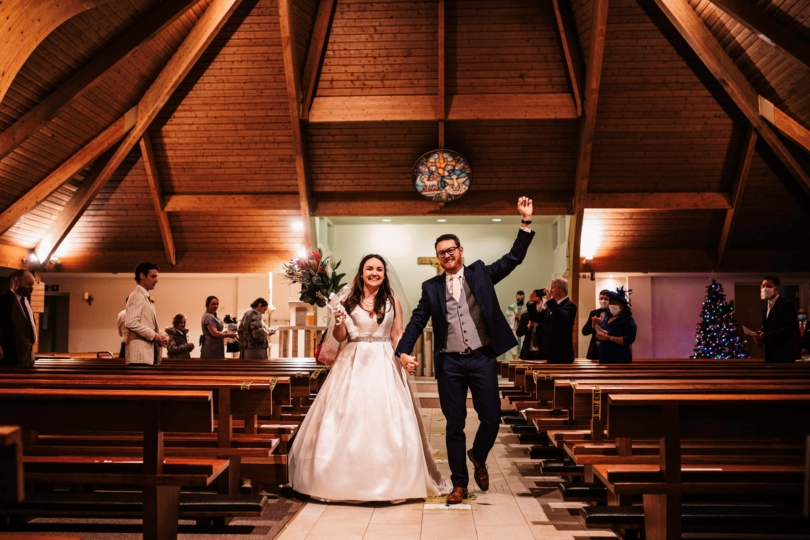 Their wedding day had already been postponed once due to the Coronavirus pandemic – and rearranged for 28 December. Says Nuala: "We had originally booked the church and reception for July and held on for as long as we could. When it became apparent that it couldn't go ahead we decided to move it to December and just invite family and friends. We accepted that it had to be a smaller wedding – but it was the marriage part that really mattered to us."
They had seen the guest numbers go down from 150 to 30 to 15 – which meant just close family members – and had to book a new venue for the reception once the area went into Tier 3. Then on the Saturday before Christmas PM Boris Johnson made his late afternoon announcement about Tier 4. At first they weren't sure what that meant for them and kept checking the government website for updates – then they saw that there could be no weddings except in exceptional circumstances.
Nuala rang her mum who made a joke at the end of the call – "we've all got our frocks and hats and can be ready within the hour". The remark gave them pause for thought. Says Nuala: "Rob's friend had suggested something similar and we asked ourselves whether it might be possible. We couldn't face how long Tier 4 might be for and we just wanted to be married in church with our family."
They rang their parish priest Fr Dan Kelly, who warned that they could do nothing without a registrar, and Fr Dominic Howarth who thought they weren't serious at first. Luckily, the parish has its own registrar, someone Nuala has known for years. "He was doing his ironing when I rang him at about 6.30pm but he agreed to come to the church for 10.30pm that night. Once we realised we could do it, there was a mad scramble to ring round to everyone."
One of the couple's best friends, Michael Barwick, ordained a deacon in the summer, was always going to conduct the wedding – his first. When Rob's sister called him, he was keen to come. There had to be an emergency pick up of Nuala's dress from the seamstress in Southend while Rob had to borrow a suit from his brother in law as his hire suit hadn't yet arrived. One of the two best men Rob had originally asked when numbers were not curtailed drove down from Norwich "at the drop of a hat". Friends of Rob's sister raided the local supermarkets for flowers and adapted a bouquet his mother had received. The photographer was two hours away and could not make it in time, so he rang round friends and found someone else who loved the idea of an impromptu wedding and was delighted to come to the church. "Luckily, it all fell into place and everyone said yes, was keen and available," says Nuala.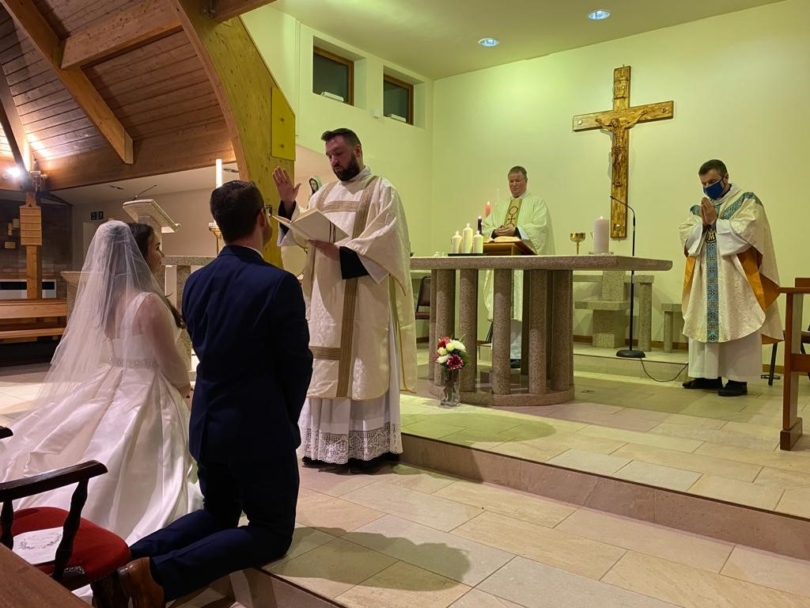 Fr Dominic, who has known the couple since their days in the Brentwood Catholic Youth Service and was their parish priest in Basildon at that time, drove over from Romford to say the nuptial Mass with Fr Dan. Deacon Barwick conducted the wedding ceremony and as they emerged from the church there was another surprise: some friends in pyjamas who had heard the news on the grapevine threw confetti and party poppers and toasted the happy couple with champagne before midnight – and Tier 4 – struck.
Says Nuala: "I felt so calm afterwards and so happy to be able to get married. I had spent a year feeling unsure, on edge and anxious. Every plan I made had to be changed. It was a huge relief." She adds: "It was never what we had planned when we got engaged two years ago but to see everyone so with us and so excited for us was wonderful."
Says Rob: "It was a surreal day – not for us the usual wedding day rituals. At 6pm we didn't know that it would happen. By 7pm it was go, go, go!"
He adds: "It was lovely to have Fr Dominic, an influential figure in our lives, there and Fr Dan as well. We are so pleased and relieved that it worked out."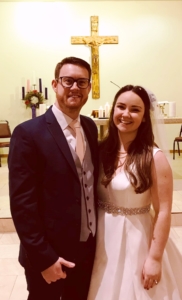 Deacon Michael felt really proud as he conducted the marriage ceremony. "It was a real joy and privilege to marry Rob and Nuala. We have known each other for many years and they have supported me through my vocational journey and were present at my ordination in the summer, so it was very special."
While there is no honeymoon to go on at present, the couple are relishing married life. Says Rob: "We are so much more relaxed – it is lovely to spend stress-free time together, watching Christmas films. It made a bad year amazing for us in just a few hours." They plan to have a bigger celebration and have everyone get together when that becomes possible in the future.
The couple originally met in 2011 as members of the Brentwood Catholic Youth Service assisting pilgrims in Lourdes. Rob is now a mechanical engineer at Ford, Dunton and Nuala is a primary school teacher at St Anne Line Primary. She is looking forward to sharing the excitement with her Year Six class. "The children will love to hear the story of our whirlwind wedding day," she says.
Pictures by David Dean